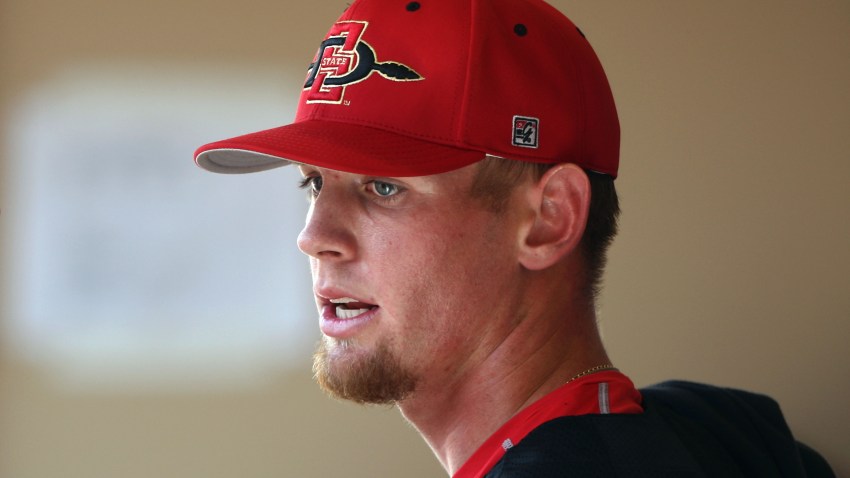 Washington -- Nationals general manager Mike Rizzo played it coy Sunday, refusing to confirm Washington will select right-hander Stephen Strasburg with the first selection in Tuesday's first-year draft.
"I don't want to talk about any individual player right now," Rizzo said before the Nationals' game against the New York Mets. "The (draft) board has been set up, but when Tuesday comes we'll certainly have time to talk about who we're taking."
Rizzo may be keeping quiet but the Nationals are expected to take Strasburg, who was 13-1 with a 1.32 ERA and 195 strikeouts in 109 innings for San Diego State, No. 1 overall.
The hard-thrower is their consolation prize for a 102-loss 2008 season. Washington also has the No. 10 pick, compensation for not signing right-hander Aaron Crow, its first-round selection in 2008.
"It's a very important draft," Rizzo said. "Whenever you pick at the top of the round in every round, it's very important. Picking first and 10th, I guess, is historic because it's never been done before and it's important."
Equally important, especially after failing to ink Crow, is signing those two first-round picks.
Strasburg is represented by agent Scott Boras, who has floated some mind-boggling numbers for the consensus top selection, starting with a $15 million signing bonus.
Rizzo, who has been the acting GM since Jim Bowden resigned in March, said signability won't affect the Nationals' selections.
Between now and the draft, Rizzo and Washington's player evaluation team will focus on finalizing the order of their 800-player board.
"I would say we're pretty comfortable with the top 10 but it's always subject to change. ... I don't think it will be perfectly set until Tuesday," Rizzo said.
A top-notch scout who helped build the Arizona Diamondbacks' fertile minor league system before joining Washington in July 2006, Rizzo is adjusting to a different role for the draft. Usually, he spends hours in the field seeing as many players as possible. Now he's preparing to be the final decision maker in the draft room, which will be in full view of select Nationals fans for the draft's first day.
This year's draft is pitching heavy and there are fewer elite position players. But the focus remains on the Nationals and Strasburg, their presumed first pick.
Rizzo, while refusing to confirm the first selection, acknowledged the Nationals' opportunity to take a potential franchise pitcher.
"There's no downside whatsoever," Rizzo said. "The only downside is how you got the No. 1 pick the year before."


Copyright AP - Associated Press