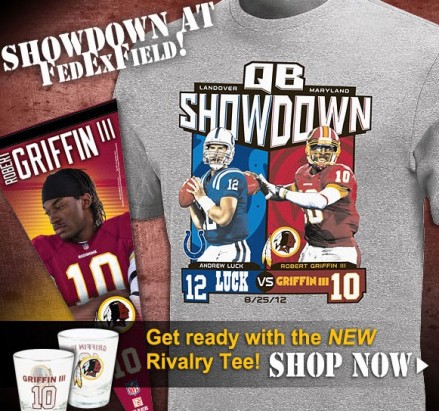 Remember earlier this week when I wrote a post about Indianapolis Colts quarterback Andrew Luck trumping Washington Redskins quarterback Robert Griffin III in his preseason debut, only to be chastised for making something out of nothing for money?
Well, now I'm not the only one doing the exploiting. Or, more appropriately, the extorting.
The 'Skins and Colts are selling "QB Showdown" shirts for their upcoming preseason game Aug. 25 at FedEx Field. You can commemorate the first (meaningless) meeting between the No. 1 and No. 2 picks in the 2012 NFL Draft for just $35!
It even has the date on it, so you will never forget the day when you spent $35 (plus shipping) to buy a lame shirt.
---
Follow Adam on Twitter @AdamVingan and e-mail your story ideas to adamvingan (at) gmail.com.