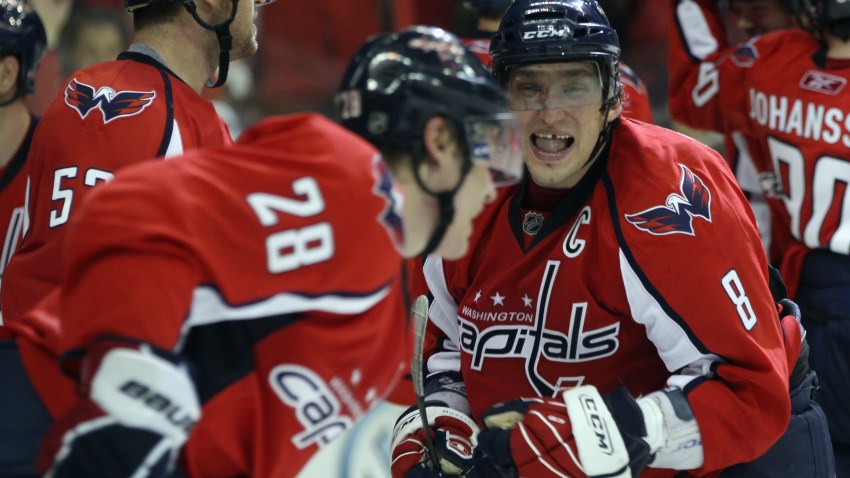 Alex Ovechkin likes to celebrate goals -- no doubt about it. He's kind of a big deal in the world of post-goal excitement.
But he needed a little help in order to celebrate properly after both Capitals' goals Wednesday night in Game 1 at the Verizon Center.
First was the scrum in the crease that led to his game-tying goal late in the third period.
Ovi hacked and whacked at the puck, at goalie Henrik Lundqvist, and at whatever he could to get that darn biscuit in the basket.
"I didn't see the puck," Ovi admitted. "I just tried to hit something, and it goes in."
It wasn't until he started jumping up and down that the Verizon Center crowd realized the puck was in the net. But since he didn't actually see the puck go in, it all came down to Alex Semin's eagle eye.
"I saw Sasha was screaming 'Goal! Goal!' so I was excited and I started celebrating," Ovechkin said.
We're not saying his excitability helped the ref make his less-than-confident goal call, but it certainly didn't hurt.
Then, when Semin one-timed the winning goal past Lundqvist in OT, the Caps quickly jumped off the bench to swarm their teammate with celebratory hugs and face-washes.
But Ovi had a slight problem, delaying his rush onto the ice.
"Well, I was stuck on the bench," he said. "My lace was stuck (on the boards) so I tried jumping, but I was stuck."
Sure enough, the replay showed that Ovi was one of the last Caps to pile onto the Semin celebration behind the Rangers' net.
Not to worry, however. Ovi made up for it a few moments later by clotheslining Semin and throwing him to the ice.
It wasn't the most graceful celebration Ovechkin has had, but he'll certainly take it.