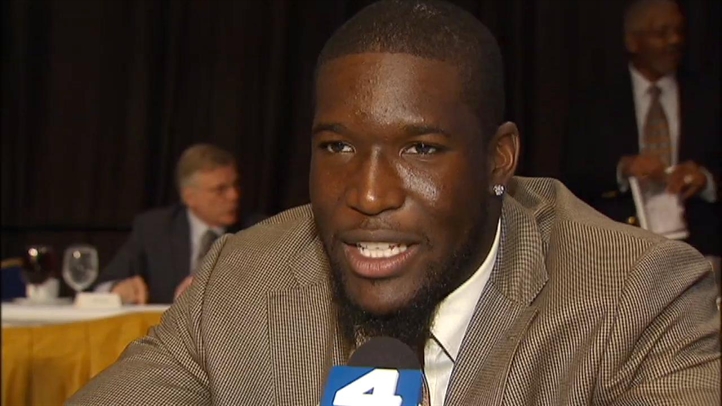 Redskins' LB Brian Orakpo has signed a deal with Geico, which means we'll being seeing a lot more of those cavemen that just don't seem to go away.

Orakpo is the third D.C. athlete to represent the insurance company, behind Ryan Zimmerman and Alex Ovechkin, and has filmed three different ads -- the first of which will appear during Thursday's game against the Ravens. While Zimmerman and Ovi's were both regional ads, Orakpo's will be nationally aired, which is a pretty big deal.
He wouldn't give us details on the storylines, but apparently we should tune in.

"It's pretty funny, man," he said. "I don't know which one they're gonnna show [Thursday], but ya'll should laugh about it."
We're picturing Orakpo going into an insurance agency and just leveling anyone who doesn't have Geico insurance.

Like any good actor, he made sure to give credit to his hairy co-stars.

"The cavemen, they're the ones that set up the whole commercial and they're hilarious."

The commercial spots were filmed in May in Los Angeles, and it seems that the 260-pound linebacker might have caught the acting bug.

"I've got a deep voice," he noted. "Hopefully I can get into some voice overs or something man, you never know."

An Orakpo-voiced animated character is exactly what this world needs.

If you miss the commercial tonight, don't worry. If history is any indication, the spots will air no less than 10,000 times during the course of the Redskins season.
View more videos at: http://www.nbcwashington.com.


Questions, comments or tips? Email Sarah at sarahskogod@gmail.com. You can also follow her on Twitter (@sarahschorno).