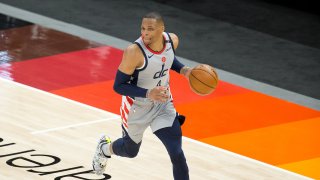 Daniels: Westbrook one of the most underrated in sports history originally appeared on NBC Sports Washington
It isn't uncommon for an NBA player to trade out their jersey and sneakers for a suit and a seat in the studio when they retire. But watching certain players can make them wish they could trade back.
For Antonio Daniels, a former Wizard and the current Pelicans analyst on Fox Sports New Orleans, Russell Westbrook is that player.
"Russell Westbrook, to me, is one of the most underrated players in the history of sports," Daniels told NBC Sports Washington's Chris Miller on Wizards Pregame Live. "I used to be in the studio, I wanted to rip my suit off and go to war with him."
Daniels explained that for all of the accusations of stat-padding that Westbrook has received over his career, his accomplishments speak for themselves, and so does his impact on each organization he's been a part of. 
After playing 14 seasons in the NBA -- four in Washington -- Daniels had a front row seat to the Russell Westbrook era in Oklahoma City as a Thunder analyst for Fox Sports Oklahoma.
"I remember going to war with people when I was in OKC about Russell Westbrook and the triple-double," he said. "When he triple-doubles, they win 75% of the time."
Coming off of six straight triple-doubles on the road and a 4-2 record in those games, Westbrook continues to prove Daniels right in a Wizards jersey, just as he did six years ago for the Thunder. 
Copyright RSN