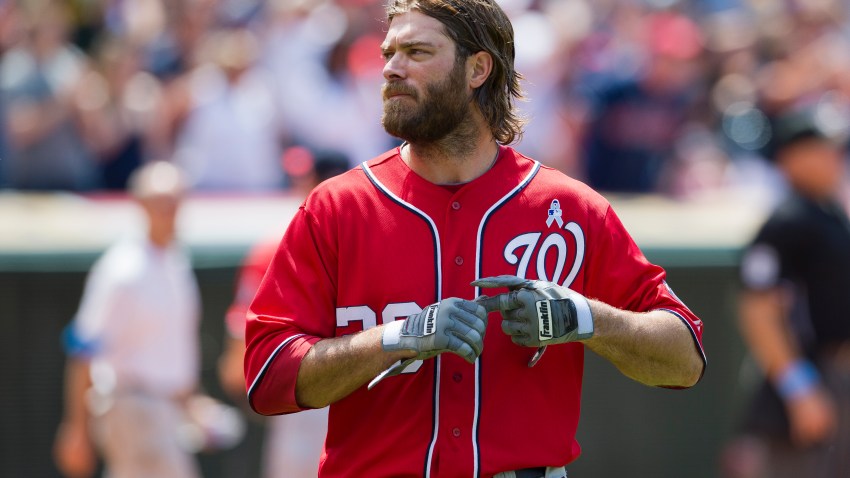 The Nationals dropped the rubber game of their three-game series with the Indians Sunday, losing 2-0 -- and spoiling Stephen Strasburg's return from injury -- while hitting 2-for-11 with runners in scoring position (including leaving a runner stranded at third with no outs on three separate occasions).
Through 68 games, Washington is averaging 3.49 runs per game, second-worst in the majors behind only Miami's 3.13.
What's even more startling is how the Nationals scored their eight runs over three games against the Indians: five solo home runs (all on Saturday), two wild pitches and one double-play grounder. So the Nationals did not drive home a single run via base hit all weekend and haven't since Ian Desmond's infield single gave them a 5-3 eighth-inning lead... on Thursday.
More from CSN Washington's Mark Zuckerman, who compiled these statistics:
Did you know the Nationals, when putting a man on third base with less than two outs this year, have brought that runner home only 46.4 percent of the time? That ranks 27th out of 30 MLB clubs.

Here's another one: The Nats have only 13 sacrifice flies in 68 games this season. That ranks 26th in the majors. They have produced exactly zero sac flies during the first six games of this road trip.

Is it any wonder this lineup has been held to zero or one run an astounding 19 times this year? Or that this team has lost 10 games already when giving up two or fewer runs?
That's bad.
Bryce Harper can't come back soon enough. Right after he gets dressed.
---
Follow Adam on Twitter @AdamVingan and e-mail your story ideas to adamvingan (at) gmail.com.