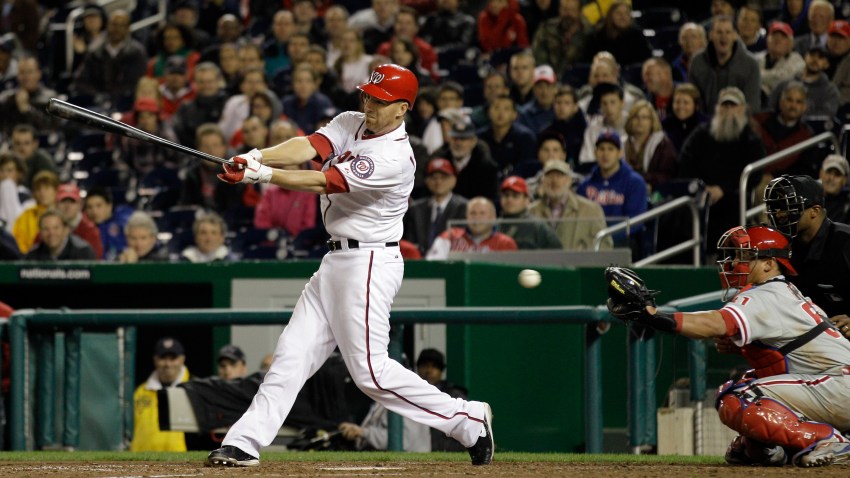 Adam LaRoche hoped he would be able to play through a nagging shoulder injury this season.
But the off-season free agent signee is hitting just .172 this season, and there's no signs of him emerging from that slump any time soon.
So what's next for the Nationals' first baseman?
LaRoche suffered the injury during spring training, and doctors said he should be able to continue playing with the torn labrum in his left shoulder without affecting his hitting.
"He's saying it doesn't affect his hitting, but he feels like there are a lot of balls he should be crushing and he's just not doing that," Nationals manager Jim Riggleman told the Nationals Journal.
Although his offense is struggling, LaRoche's defense has been flawless so far. The 31-year-old hasn't made an error yet this season.
But the Nationals need offense, and their first baseman isn't providing it. Worse news: If LaRoche opts to have his shoulder fixed, there is a possibility he could be done for the season, Riggleman told Nationals Journal.
If that happens, Nats fans may see an MLB debut in the near future.
Current Nat Michael Morse is an option for first base if LaRoche goes down. He started on Sunday in place of LaRoche who is currently in a 1-for-21 slump.
However, the Nationals could also call up Chris Marrero from AAA Syracuse.
Marrero was drafted in the first round by the Nats in 2006 and is hitting .271 with four homers this season. He is leading the Chiefs in RBIs, runs and doubles.
Baseball America lists Marrero as the ninth-best prospect in the Nationals farm system.
While losing LaRoche would be a big blow, fans could look at this situation optimistically, as Marrero has the talent to be an impact player for the struggling Nats offense if he ends up getting the call.