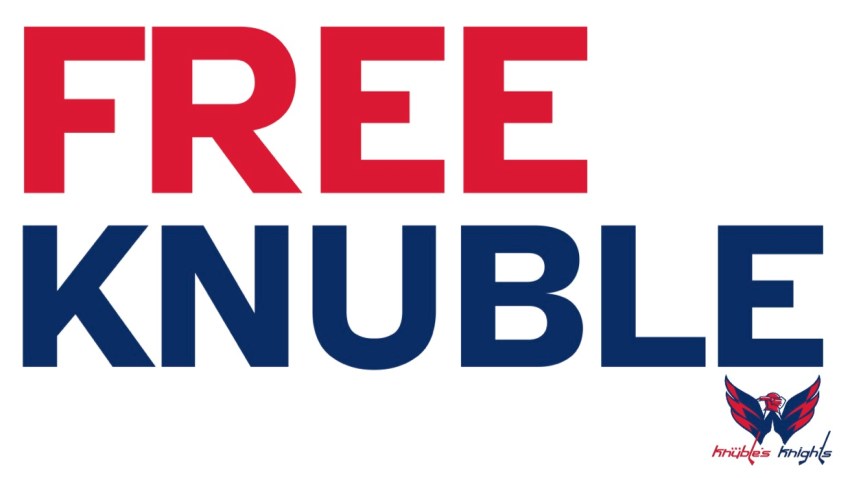 For two seasons, Washington Capitals forward Mike Knuble was a fixture on the team's first line as the gritty complement to Alex Ovechkin and Nicklas Backstrom's finesse and skill. It started that way this season, but did not last long as former head coach Bruce Boudreau moved Knuble further down the lineup, where he landed on the fourth line with significantly less playing time.
At this point, being on the fourth line may be better than no playing time at all, which Knuble is currently suffering through. Knuble was a healthy scratch for the Caps in Tuesday's 4-3 overtime loss to the Carolina Hurricanes, the eighth time in the last 13 games he has been out of the lineup. There may not be much that Caps fans can do to change head coach Dale Hunter's mind, but two fans in particular tried their best.
Knuble's Knights -- 27-year-olds Sir Nathan of Burke, Va., and Sir Ryan of Alexandria, Va. -- set out to right what they felt was wrong by protesting Knuble's benching at Tuesday's game.
"[Knuble] got off to a slow start, as usual, and never really got a chance to pick up speed," Nathan said in an email Tuesday, referring to Knuble's three goals and 12 points in 58 games this season. "Now it seems like we're in a place where the coach puts him in for a game, and when he doesn't score a goal, he sits the next. It's not like we're succeeding a ton without him in the lineup. It's tough to see what is accomplished by scratching a talented guy who'll put his big body in front of the net, especially one with a well-documented veteran locker room presence. It's confusing."
To make their own presence and frustration felt, Nathan and Ryan planted themselves right behind the glass on the side of the ice where the Caps warmed up. Ditching their normal medieval garb for inside-out jerseys, the duo held up two signs against the boards: one that read "Free Knuble" and one that read "Scratch Hunter," expressing their disdain for the latter's recent decision-making.
"'Scratch Hunter' is our subtle way of pointing out it's not all Mike's fault," Ryan said. "It seems like Knuble is getting scapegoated for the team's problems -- at least he's the one being 'punished' for them. There are a lot of things going wrong with the Caps right now, and there are certain other people who bear at least some of the blame."
No good protest, however, goes without opposition. While it was not quite a standoff with police, security asked Nathan and Ryan to
take down the signs
as directed by the
Caps themselves
and they obliged, negotiating with security, who
threatened to remove them
from Verizon Center if they continued to display the signs along the glass.
Now if only Hunter will notice...
---
Adam Vingan is co-founder and editor of Kings Of Leonsis, a Caps-centric blog, and is the Capitals Editor for SB Nation. Follow him on Twitter @Adam_KOL and e-mail your story ideas to adamvingan (at) gmail.com.