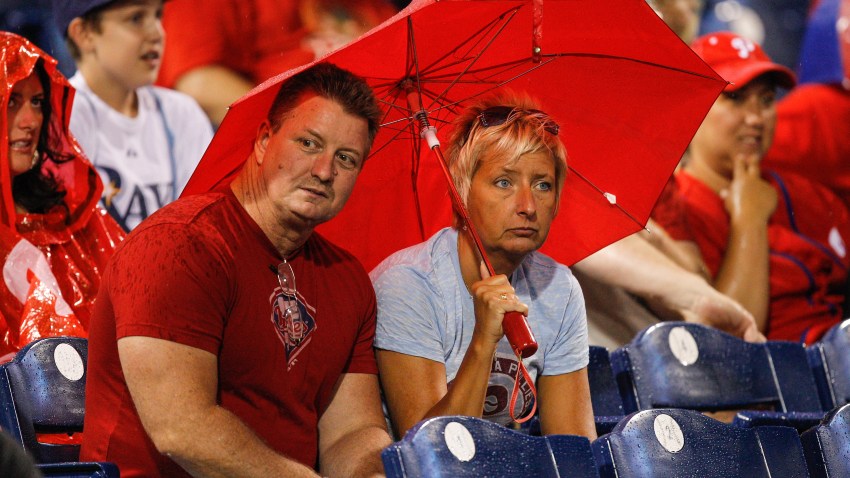 The Philadelphia Phillies have not been themselves this season. The five-time defending National League East champions are 49-60 after their 6-1 loss to the Atlanta Braves Monday and their season is all but over.
Expectedly, such struggles have also hurt the Phillies at the gate. Citizens Bank Park's 257-game sellout streak was snapped Monday, ending an impressive three-year run -- the streak began July 7, 2009 -- that is the longest in NL history.
Meanwhile, in Houston, the first-place Washington Nationals were facing the Astros (the Nats won 5-4 in 11 innings). During MASN's broadcast, Bob Carpenter and F.P. Santangelo decided to bring up the woes of the Nats' division rivals, but not without poking a little fun at their expense:
"They're gonna have to take back their own ballpark," Santangelo said.
"Now that is funny," Carpenter replied.
Of course, Santangelo is referring to the Nats' "Take Back The Park" campaign in early May when the Phillies -- whose fans historically travel well to Nationals Park -- came to town for the first time, back when the rivalry between the two teams was still strong (it's hard to have a rivalry when one team is vastly outmatched; the Nats have won 15 of the last 21 games between the two).
"A little shot never hurt once in a while," Santangelo later said, explaining his earlier joke. "Why not?"
Natitude.
---
Follow Adam on Twitter @AdamVingan and e-mail your story ideas to adamvingan (at) gmail.com.