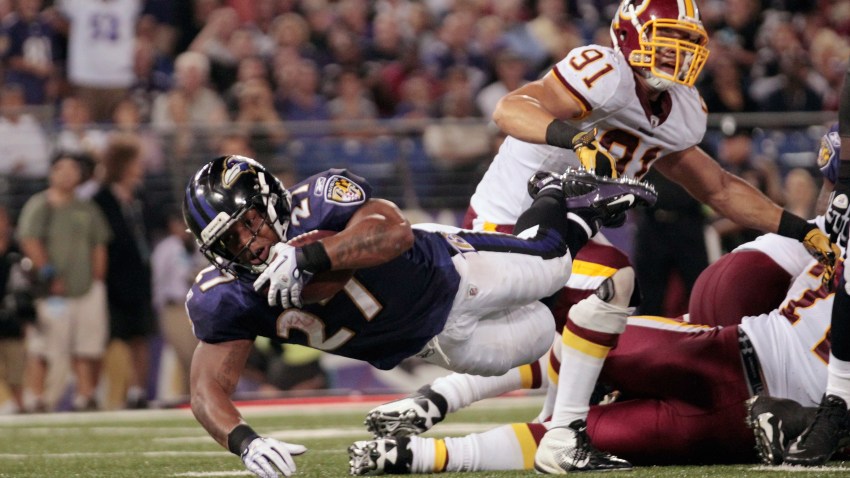 Although the buzz surrounding the Redskins quarterback competition took center stage in Thursday night's 34-31 loss to the Baltimore Ravens, it was difficult to ignore the performance on the other side of the ball. Washington's defense stole the show with a resurgent pass rush and a glimpse at just how suffocating it could be in 2011.
In a quarter and a half of play, they confounded Joe Flacco, limited Ray Rice and even scored a touchdown on a DeAngelo Hall interception return. A punishing start was somewhat dampened by several careless penalties that led to a pair of extended touchdown drives, but ultimately it was another redeeming preseason outing after 2010's fall from grace.
"We played pretty good," said linebacker Brian Orakpo. "We shot ourselves in the foot with penalties and stuff. But besides that our guys came in with the mentality to dominate and I thought we did a phenomenal job."
The penalties marred what was an otherwise explosive effort; an effort that revealed the Redskins might have the necessary playmakers to wreak havoc on opposing quarterbacks all season long. While the defense kept their scheme fairly vanilla through the first two preseason games, Jim Haslett opened up the playbook, throwing an array of blitz packages at Ravens quarterback Joe Flacco.
Flacco struggled to get into a rhythm as the Redskins' set of bookend outside linebackers in Orakpo and Ryan Kerrigan set the tone early and often rushing off the edge.
"We ran stuff that we've been working on everyday and it was good to see some of it all kind of come together and yield some good results," Kerrigan said.
The rookie out of Purdue has experienced his fair share of growing pains thus far, but on Thursday he flashed the pass rushing skills Washington saw when they drafted him with their first round pick earlier this year. Not only did he record his second sack of the preseason, he was constantly in the Ravens backfield, leaving Flacco little time to establish himself in the pocket.
Even more impressive was the Kerrigan's discipline in stopping the run. He had six tackles and disrupted several rushing plays behind the line of scrimmage. He maintained the edge on a few others and continued to make big strides in his transition from the 4-3 to the 3-4.
Much has been made about the difficulties in undergoing such a transition, but in communicating with Orakpo who went through the same process in 2010, Kerrigan has been able to shorten his learning curve and show rapid improvement in just three weeks.
"He's making the transition very well, man," said Orakpo. "Faster than what I was when I first got here and I'm excited for him…I'm very confident in him."
Kerrigan was called for neutral zone infractions twice, but that overanxious mentality is something he acknowledged can't happen in a matter of weeks.
"I did some things well [and] I did some thing not so well, like the penalties," he said. "I've just got to keep getting better and better and working at things every day."
Meanwhile Orakpo has embraced his new role mentoring Kerrigan while also showing he is ready to blossom in his second year under Haslett. Michael Oher was overmatched, Rice tried to help by chipping him, but nothing was stopping Orakpo.
For a second straight week he spent the bulk of his playing time residing in an opponent's backfield, which is exactly where his teammates want to see him.
"'Rak is just comfortable now. I think last year we were all kind of thinking a little bit, but [in his] second year in the defense his athleticism is coming out," said linebacker Lorenzo Alexander. "He's just way more athletic than the average guy and he's going to make plays year in and year out."
On a roster once devoid of playmakers, welcome words indeed. With the correct personnel finally in place, the sky is the limit for the Redskins pass rush and defense as a whole.