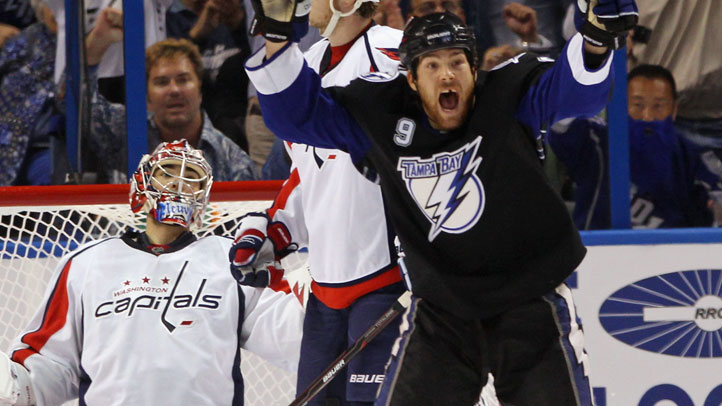 And just like that, the Capitals' season is over.
There will be no lifting of the Stanley Cup. Instead, it's time to lift the razor and shave off that playoff beard.
There will be no victory parades cutting through the heart of Washington, D.C. Instead, there will be long plane rides home to spend a summer pondering what went wrong.
And there will be no more hockey this spring for the Caps and their fans at the Verizon Center, just tee times at golf courses and adult beverages at the bars to help drown the sorrows of a season that could have been.
The Capitals, the cream of the crop of the Eastern Conference, were swept by division rival Tampa Bay in the second round of the playoffs -- a stunning ending capped off with a 5-3 win in Game 4 Wednesday night in Florida.
Now all that is left is to pack up the equipment bags, clear out the lockers and wonder who has played -- and coached -- their last game as a member of the Capitals' franchise.
Will the roster receive a major overhaul?
"I hope not," Alex Ovechkin said after the game. "This locker room is unbelievable. Everybody supported each other."
The top question: Will coach Bruce Boudreau keep his job after yet another disappointing playoff run? Before Wednesday's game, Boudreau was asked for his thoughts on his future with the team. Perhaps it was an unfair question just hours before he was to lead his team to the ice in an attempt to save their season, and Boudreau was having none of it.
"You guys have been asking me that all year. Is your job on the line?" Boudreau said. "Well then, I don't wanna answer that."
Boudreau then added under his breath as the next reporter was about to speak, "Stupid question, stupid."
Hours before Game 4, that might have been the case. But now? Totally valid.
Throughout the season Boudreau was challenged to get more out of his team. When the squad went through a long, painful slump at the end of 2010, Boudreau tore apart his team's style of play and instituted a defense-first philosophy that took his players a while to adapt to. It was a style that was supposed to get them farther in the postseason. It ended up getting them four playoff wins, and nothing else.
But the coach can't be totally to blame. The rundown of players who disappointed in the playoffs is long. This team was built to win now. But now is in the past, and the franchise has decisions to make.
Ovechkin, obviously, is safe. He's the face of the franchise, and he put up points in the postseason.
"I think our best player tonight was our best player tonight and in the series," Boudreau said of his captain.
But Ovechkin has to grow as a leader, and he has to find a way to utilize his linemates better in the playoffs. Individual effort doesn't get you a dance with Lord Stanley.

Will the team want to watch the playoff disappearing act by Alex Semin again? Even without his injuries, Mike Green's play in his own end has been spotty at best. What happened to Nicklas Backstrom this season? Can he rebound in the fall? After Game 4 Boudreau stood up for his top-line center, who he was forced to demote at times this season.
"Nicky Backstrom didn't score, but no one's going to stand up here and tell me he didn't try," Boudreau said. Not that he wasn't putting himself in position, but things just weren't going. It's something like a snowball that just keeps building."
When the Capitals needed their best players during desperate times in the playoffs, they didn't show. That's very, very concerning.
Expectations were high. Boudreau said he thought this group had something special.
"Quite frankly, I thought that from Day 1," he said. "I knew it was a tough year, because we went through these peaks and valley. But I just thought something good was going to happen."
But make no mistake about it, the Caps have one heck of a nucleus to build upon. Young defensemen like John Carlson and Karl Alzner could be mainstays for years to come, and the addition of Dmitri Orlov should make Caps' fans smile. Same could be said for the goaltending trio of Michal Neuvirth, who had a strong showing in his first NHL playoff action, Semyon Varlamov and Braden Holtby. And with Ovechkin the key cog in the offense, there will always be a scoring threat.
But now it's time to take a good, hard look at the plan set out for this franchise and make some hard choices. Forget all of the regular season stats and honors. Are these players on the roster the ones who can bring the Cup to D.C.?
Many members of the roster are nice guys and skilled hockey players, but they won't be asked back to play at the Verizon Center next season. In their place, general manager George McPhee will try to find the right mix of scoring prowess, defensive reliability and -- most importantly -- character, leadership and accountability to push this team past the second round and into the Stanley Cup Finals.
It's a daunting task, but hey, thanks to Wednesday night's loss, there is plenty of time this summer to mull things over.