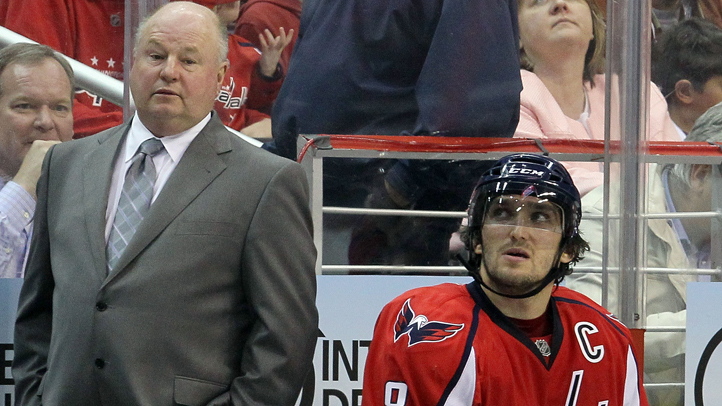 Since Bruce Boudreau's firing on Monday, there have been questions as to whether or not Alex Ovechkin's performance was a motivating factor.
It's no secret that Ovi's play in the last two years has been a disappointment, and recent signs of a disconnect between he and Boudreau were painful to watch. The idea that a player could passively get a coach fired is not a new one, but according to a conversation he had with the Post, it's an idea that Boudreau himself isn't willing to entertain:
"[Ovechkin] called me Monday and I didn't feel like talking," Boudreau said. "I answered the phone [Tuesday] and he was really gracious. He said he really enjoyed working with me and I said, 'I loved every minute of it.'"

Asked why it appeared over the past season that he was trying to get Ovechkin to play one way, and the team captain didn't change his ways, Boudreau said: "He might have been doing his own thing, but the good was outweighing the bad by a long shot. Now there's more scrutiny now because he's not scoring at the rate he was and people are more willing to criticize. …We play different than we did three years ago.

"I don't think it was him rebelling against me," he said, choosing his words carefully. "I'll never want to believe that."
No coach will ever be more important than his team's star player, and that's a sad fact that we all must get used to. And if that player is no longer responding to his coach, it's not the player who falls victim.
But now that there's been a change at the top, there are no more excuses for Ovi. Not responding to his coach is no longer an option.
It's going to take some time for players to adjust, and Ted Leonsis has proactively asked for patience (familiar words from Leonsis if you're also a Wizards fan).
But as the Caps embark on this new era, no one needs to adjust quicker than Ovi.
Questions, comments or tips? Email Sarah at sarahskogod@gmail.com. You can also follow her on Twitter (@sarahschorno).