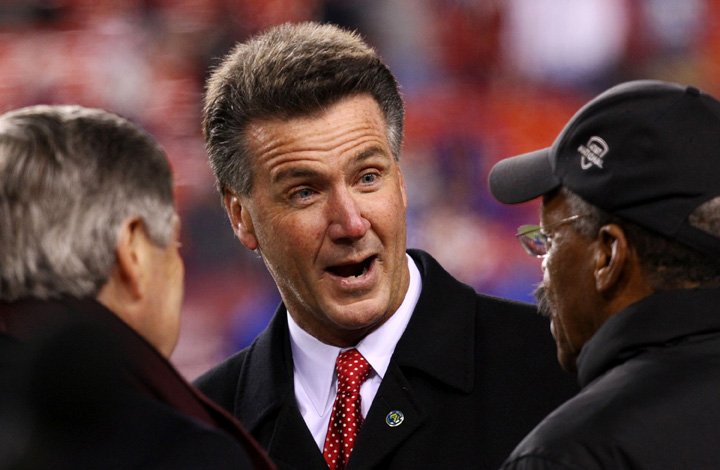 Bruce Allen made a statement to CSN Washington that definitely has us shaking our heads.

"We would make the move again for Donovan," Allen told CSN Washington. "The 6-10 record isn't what we dreamed for our season. Once again, I can't pinpoint one person to blame for that. We have to improve on special teams, defense, and offense."

Do you hear that noise? That's all of Redskins nation smacking their foreheads.

The team gave up second- and fourth-round picks for McNabb, as well as a hefty sum of $15 million in paychecks and bonuses last year. He was benched early in the season and then rewarded with a five-year contract extension worth a potential $78 million. The Skins finished 6-10, rotating three quarterbacks in the process.

But yeah, let's totally do that again.

Yes, they have the option of releasing him with little financial consequences this year. But the lockout has us stuck in "will they or won't they" football purgatory. Popular opinion is that McNabb won't be a Redskin this season, but Allen didn't do much to ease our worried mind.

"He's on our roster right now," Allen said. "Donovan's performance last year was part of the team's performance. I usually don't try to single out one player for wins or losses. He was a good captain for us, and we'll see what happens."

Sigh. John Beck isn't looking so bad right now.
We're going to go cry in the corner until the lockout is over.

Questions, comments or tips? Email Sarah at sarahskogod@gmail.com. You can also follow her on Twitter (@sarahschorno).