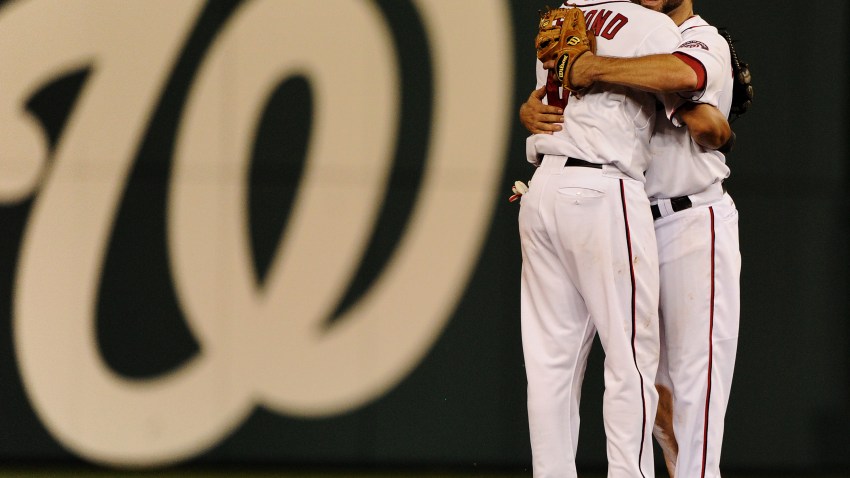 The Nats are 14-6 in June, giving them a .500 record the latest in a season since 2005, and aren't showing any signs of slowing down.
And after reaching that magical .500 mark with a one-run victory at home against Seattle Wednesday night, the Nats aren't focusing too much on the accomplishment.
"No one here is satisfied with being a .500 ball club," pitcher John Lannan told Adam Kilgore of the Washington Post. "Just push forward and see what our next goal is."
Lannan is a big part of the Nats' recent push for the .500 mark. In his last six starts, Lannan hasn't allowed more than two earned runs while earning three wins.
Fellow starter Jordan Zimmermann has also been impressive. Since May he has allowed more than two earned runs once -- in a May 12 outing at Atlanta where he allowed three, but still struck out 11 batters.
The bats of Danny Espinosa, Michael Morse and, most recently, Roger Bernadina can't be forgotten when discussing Washington's success as of late.
The trio is the tops on the team in hitting in June and have combined for 12 home runs and 29 RBI in that span.
The power from Morse and Espinosa has been able to keep the Nats afloat with Werth struggling, Ryan Zimmerman missing time and Adam LaRoche out for the season.
They share the team-lead with 13 home runs each. In fact, Morse and Espinosa are among the team leaders in virtually every hitting category.
Considering the season isn't even halfway over and the Nats are still 9.5 games behind the NL East-leading Phillies, we understand why this isn't a time to get too excited.
Still, the thought that they can do this well without a Bryce Harper or a Stephen Strasburg on the roster is quite an intriguing one.
The Nats will go for the sweep and put their 37-37 record on the line in the series finale against Seattle before heading to Chicago to face the White Sox.