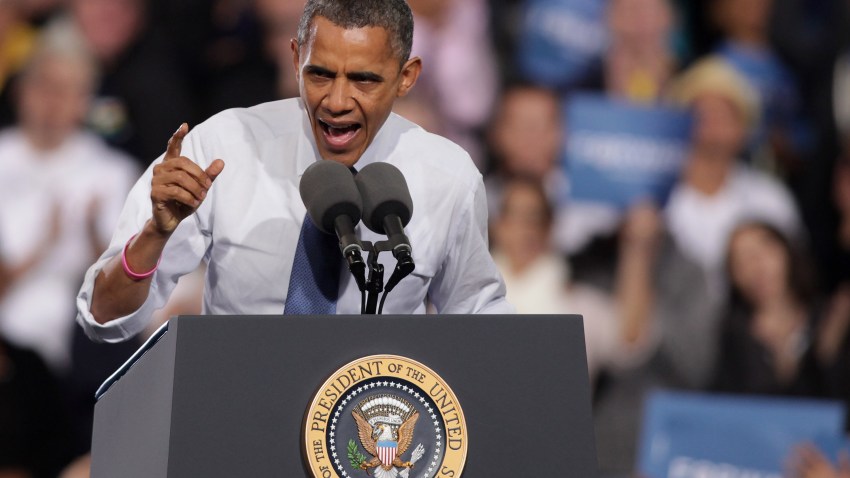 Well, I guess it's an executive order now.
With Election Day looming, President Barack Obama appeared on "The Tonight Show With Jay Leno" as he continued his whirlwind cross-country tour of battleground states. He spoke about a variety of topics, but since this is a sports blog, I'm sure you didn't come here to read about anything related to politics. And for that, I salute you.
Mike from Los Angeles wanted to know what the president could do about the NHL lockout, which is nearly six weeks old and has cost the NHL 135 regular-season games among its 30 teams.
"I just want to remind the owners and the players: You guys make money because you've got a whole bunch of fans out there who are working really hard," Obama said, seemingly neglecting the fact that he has paid more visits to Trinidad and Tobago as president than to Verizon Center for Capitals games. "They buy tickets. They're watching on TV. Y'all should be able to figure this out. Get this done."
Easier said than done, Mr. President. Thursday is the league-imposed deadline to play a full 82-game season, which seems incredibly unlikely at this point considering the NHL rebuffed the NHL Players' Association's request to meet Wednesday to continue discussions regarding a new collective barganing agreement.
"Unfortunately, it looks like an 82-game season is not going to be a reality," NHL commissioner Gary Bettman said to reporters Wednesday at Brooklyn's Barclays Center, where it was announced that the New York Islanders would move there in 2015.
Meanwhile, NHLPA executive director Donald Fehr referred to the NHL's deadline as "artificial" in a statement Wednesday.
"The players made multiple core-economic proposals [last] Thursday that were a significant move in the owners' direction," he said. "We are and continue to be ready to meet to discuss how to resolve our remaining differences, with no preconditions. For whatever reason, the owners are not. At the same time they are refusing to meet, they are winding the clock down to yet another artificial deadline they created."
According to TSN's Darren Dreger, the NHL will likely cancel its next slate of games Friday and it could be significant. When asked if the annual Winter Classic -- the league's marquee event that is scheduled to be held Jan. 1 between the Detroit Red Wings and Toronto Maple Leafs at Michigan Stadium in Ann Arbor -- is in jeopardy, Bettman's response was disconcerting.
"I'm not going to give you an exact timetable, but at some point in November we will have to commit many millions of dollars to get ready for the Winter Classic, so if there's still uncertainty, we're going to have to make a decision," he said to reporters. "And my guess is, we're not going to commit those dollars unless we have certainty."
---
Follow Adam on Twitter @AdamVingan and e-mail your story ideas to adamvingan (at) gmail.com.