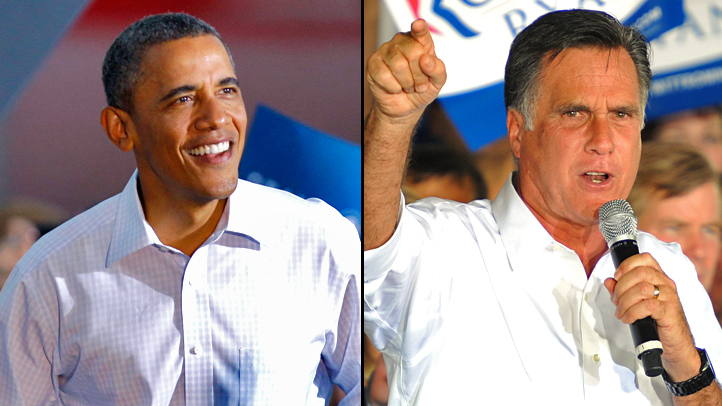 Another day, another poll out of Virginia.
This latest Suffolk University/ NBC12 poll shows much of the same: The Senate race between Tim Kaine and George Allen is in a dead heat -- 44 percent to 44 percent, to be exact.
But the poll also found that Obama only has a two point lead in the state, a lead that's well within the margin of error.
First Read — DMV
A place for insight, analysis and exclusives on the people who shape politics in the District, Maryland and Virginia.
This poll alone is good news for Romney. Recent polls have shown Obama gaining steam in the state. The New Republic's pollster Nate Cohn outlines Romney's challenge in Virginia, which he said is comparable to his uphill battle in Ohio.
Real Clear Politics' average of all polls in Virginia puts Obama 4.1 points ahead of Romney, 49.1 percent to 45 percent.
It's hard to tell exactly if this poll is an outlier, or indicative of Romney catching up. But whether he is two points or four points behind, it's clear that it won't be easy for him to win this key swing state.
But he's definitely within striking distance.
IN OTHER NEWS:
* The autobiography we've all been waiting for: The life of D.C.'s Mayor for Life.
* LivingSocial sponsors Metro after Nats' gamesduring their postseason run.
* Michael Brown's ex campaign treasurer seemed to also have trouble keeping track of his own finances.
* Obama and Romney campaign in Virginia.
* Group tries to stop Dragas reappointment to UVA board.
* Pepco and the union go back to the negotiating table.
* Del. Justin Ross, a young up-and-comer in the Maryland legislature, is retiring to spend more time with his family.
* DMV's multiracial population is growing at a faster rate than the rest of the nation's.

* Kwame Brown reportedly failed to make at least one of the required weekly calls to pre-trial supervision.