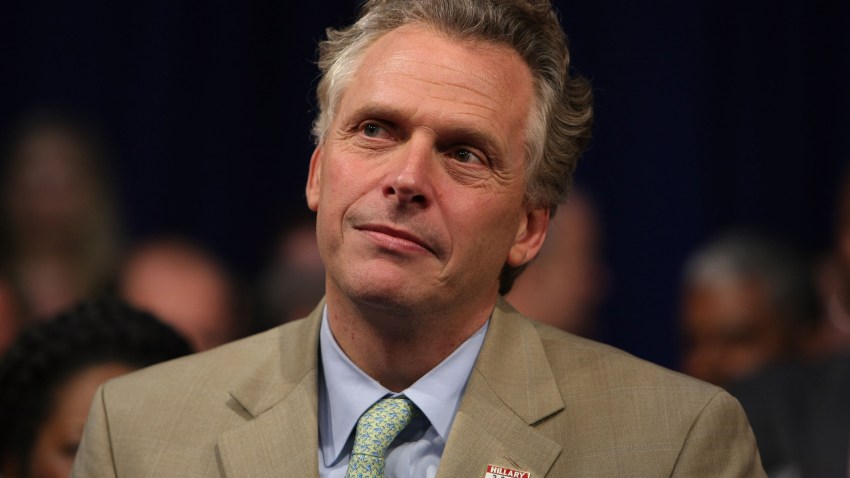 Two weeks ago, Virginia gubernatorial candidate Terry McAuliffe released his first campaign ad. In it, he portrayed himself as a family man and successful entrepreneur who got his start in business as a hardworking teenager repairing driveways.
Candidates often seek to define themselves before their opponents and the media do.
The problem for McAuliffe is that he defined himself long before his current bid for governor.
First Read — DMV
A place for insight, analysis and exclusives on the people who shape politics in the District, Maryland and Virginia.
In books and interviews he has told stories that undermine the family man image. McAuliffe, for example, recounts how he left his wife (in tears) and newborn son in a car so he could attend a political fundraiser. He was once thrown out of a delivery room for arguing about heath care reform to the point where he was disruptive. And McAuliffe nearly missed the birth of a child so he could attend a party to honor a Washington Post gossip columnist.
Those stories might not be deal breakers with voters, but McAuliffe's image-makers will certainly need to adjust his campaign strategy. The "I'm a family man just like you" message is kaput.
McAuliffe's bigger problem, though, may have been created by the Occupy movement and reinforced by Democrats throughout the 2012 election season.
McAuliffe, who has amassed considerable wealth in part through his connections to the political world, is a "one percenter."
If there is any doubt that McAuliffe is in the elite tier of wealthy Americans, consider this: The prolific fundraiser bragged about loaning Bill and Hillary Clinton $1 million so they could purchase a home. He did so while joking that the former president could not come up with $25 to buy some pizzas.
Democrats used wealth very effectively against opponents in the last election cycle. In particular, presidential candidate Mitt Romney was pilloried for his role as CEO of Bain Capital. Romney's fortune was also used to portray him as being out of touch with everyday Americans.
McAuliffe should expect the same treatment from Republicans and the media. What's good for the goose is good for gander.
I suspect it is only a matter of time before McAuliffe is asked to reveal his tax returns. Based on what Democrats sought from Romney, McAuliffe might want to be sure he paid all the proper taxes on the income he earned fixing driveways 40 years ago.
And McAuliffe will need to explain how he is a more humane businessman than Romney, who was criticized for cutting jobs to save struggling companies in order to turn them into profitable enterprises.
Though their resumes differ, McAuliffe, like Romney, has had to make business decisions.
McAuliffe recently resigned as chairman of an electric car company, GreenTech Automotive. Originally the car manufacturer was slated to be located in Virginia, but McAuliffe opted to set up shop in Mississippi. His explanation has come under scrutiny, but it isn't the fine print that could doom McAuliffe's dream to be elected governor.
What will hurt McAuliffe is the need to explain, over and over again, why he didn't choose Virginia.
Just ask Romney: Voters do not like to hear about bottom line business decisions that take precedence over people and jobs.
And, of course, there are other questions McAuliffe may face. Does he have offshore investments? How about overseas bank accounts? In what ways have his political connections benefited his personal financial interests?
These are all fair questions. Romney had to face them. Now it is McAuliffe's turn.
Chuck Thies is a political, communications and advocacy consultant. He has worked on national projects and internationally in Europe, Africa, the Middle East , China and Mexico. If you are daring, follow him on twitter @ChuckThies.