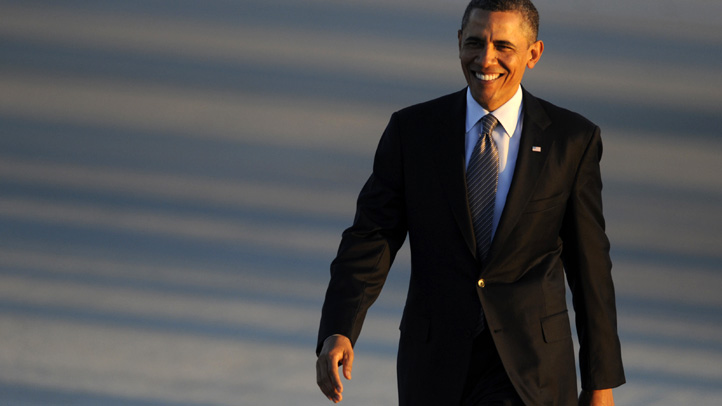 President Obama is broadcasting his first campaign ad in Virginia today, and Republicans are already calling foul on the early airing, The Washington Post reports.
According to the Post, Dave Rexrode, executive director of the Republican Party of Virginia, told reporters that the move paints Obama as "desperate."
"It is clearly a sign he is worried about how things are going here in the Commonwealth of Virginia,'' Rexrode said.
First Read — DMV
A place for insight, analysis and exclusives on the people who shape politics in the District, Maryland and Virginia.
The ad, according to Business Week, aired today in Iowa, Michigan, North Carolina, Ohio, Virginia and Wisconsin -- typically key swing states in presidential elections.
Business Week wrote:
The move begins a new phase in the campaign cycle and provides another outlet for Obama's drive to engage Republican candidates and outside groups supporting them with millions of dollars in ads aimed at the president.
Entitled "Unprecedented," the ad highlights Obama's clean energy accomplishments and says that the president has kept his promise to "to strengthen America's energy economy."
Watch the ad here.
* The Virginia Senate passed its congressional redistricting map today -- a map that Democrats claim is unconstitutional because it disenfranchises African Americans by placing too many of them into one district.
With one Democratic senator absent, the vote fell along party lines at 20-19, the Richmond Times-Dispatch reports.
The redistricting bill still needs to be signed by Gov. Bob McDonnell and approved by the Department of Justice to ensure it is compliant with the Voting Rights Act. According to the the Times-Dispatch, Democrats have filed suit against the Republican redistricting plan in Richmond and in federal court in Alexandria.
For more information on the redistricting specifics, check out a map of the plan here.
* The District released its long-awaited food vending regulations today -- regulations that will hopefully ease the friction between trendy food trucks and traditional brick-and-mortar restaurants in the city.
Updating 30-year-old regulations geared toward old-fashioned street vendors, the new rules would establish food zones and regulate the number of trucks in each zone.
The idea behind the regulations is to allow the food trucks to operate while preventing them from setting up shop in front of established restaurants.
Under the current rules, a vendor can only stop if flagged by a customer and can only remain parked if there is a line of people.
A full list of the proposals and regulations are listed on the D.C. Registrar's website.
* The race for the recently vacated Ward 5 D.C. Council officially begins today. Candidates can now begin filling out petitions to get on the ballot for the May 14 election.
Harry Thomas Jr., who pleaded guilty to stealing more than $350,000 in city funds, previously held the Ward 5 seat.