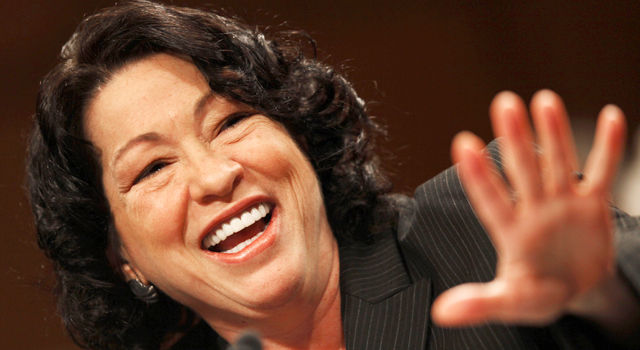 It's not so implausible to think that you may run into Supreme Court Justice Sonia Sotomayor next time you're bar hopping in the U Street corridor.
The New York City native recently purchased a $660,000 two-bedroom condo in the neighborhood, according to Washington Business Journal.
D.C. tax records, sifted through by WBJ, show that Sotomayor paid about $136,000 more than the unit's current property tax assessment but that it does qualify for a $67,500 homestead credit.
First Read — DMV
A place for insight, analysis and exclusives on the people who shape politics in the District, Maryland and Virginia.
* New fund-raising reports show that northern Virginia's incumbent members of Congress have massive cash advantages over their opponents, according to The Washington Post.
Via Post:
Rep. Gerald Connolly (D) had a $1.2 million war chest as of June 30, while his Republican challenger, retired Army Col. Chris Perkins, had just $44,000 in the bank. From May 24 through June 30 — since the last official reporting period — Connolly outraised Perkins, $172,000 to $41,000.
Read the full post here.
* Kojo Nnamdi wrote an op-ed in the Post over the weekend explaining how D.C. became a District of corruption.
Among his reasons:
"We came to this by a quick, narrow route. The relatively short period of time since we began electing our mayor means that we haven't built time-tested political operations comparable to those of other major cities or states. We're still on a learning curve, so campaigns in this town tend to have all kinds of openings that invite skullduggery. Seasoned and trustworthy political operatives are in short supply, their roles eagerly adopted by back-slapping cronies and slick new arrivals.
Harry Jaffe of The Washingtonian responded to Nnamdi's piece and wrote that the D.C. journalist, most commonly known as simply Kojo, "took the path of least resistance, parroted the convenient explanation, avoided the painful judgment."
Jaffe wrote to Kojo, "You became an apologist."
So, Kojo, to what can we attribute the corrupt acts we are sadly witnessing? The system is fine. It's the people who are corrupt. Harry Thomas Jr. stole money from a public trust fund devoted to training poor kids to play sports. He used the purloined money to buy fancy cars and a motorcycle.

Vince Gray's campaign aides slipped cash and money orders to Sulaimon Brown so he would berate Adrian Fenty in public forums. They broke the law.

Now we are finding out that a whole crowd of DC residents took part in a massive conspiracy to collect, launder, and apply $653,000 to help Gray beat Fenty—all of it off the books.

No, Kojo, the system works fine. U.S. Attorney Ronald Machen and his investigators are gathering evidence and knocking off the corrupt individuals one by one.

People are corrupt. The system is fine. Once people vulnerable to corrupt acts realize they will be caught and punished, perhaps they will choose to not break the law. Or perhaps they won't.
Apologists gloss over that essential, personal choice.
* Loose Lips points out that Bernard Demczuk, a former aide to Marion Barry and longtime political fundraiser, said last July that he was swearing off big-money and no longer planned to give more than $25 to any politician.
But since then Demczuk donated $100 to Ward 2 Council member Jack Evans's reelection campaign, $250 to Ward 7 Council member Yvette Alexander's campaign, and $500 to Barry and Vincent Orange. He also wrote $100 checks each to two Ward 5 special election candidates
His reasoning, via LL:
Demczuk says he left out a big disclaimer in his op-ed: the $25 rule only is for the next election cycle, not this one.

"I has promised several candidates that I would contribute during this election cycle and I have," Demczuk says, adding that come Nov. 6, it's $25 from here on out. For real this time!
* Gov. Martin O'Malley (D) met with leaders of three of Maryland's largest jurisdictions Monday, part of his effort to pressure leaders of the House of Delegates to agree to a special legislative session on expanded gambling, according to Post.
Via Post:
"I think there is broad consensus to be had here," O'Malley said following a meeting with Prince George's County Executive Rushern L. Baker III (D), Montgomery County Executive Isiah Leggett (D) and Baltimore Mayor Stephanie Rawlings-Blake (D).