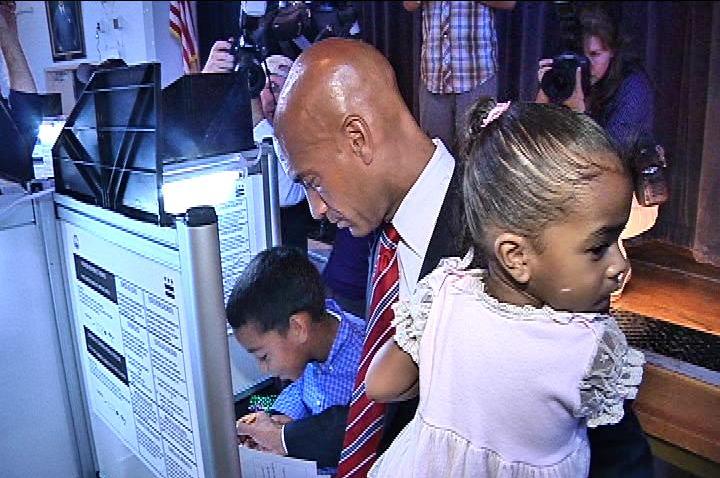 Running for office as a write-in candidate is tough. Just ask Alaska Sen. Lisa Murkowski, whose own campaign misspelled her name in an ad, or Rep. Mike Castle, the one-time favorite for Delaware's Senate seat, who got just five percent in a poll as a prospective write-in.
And it's even tougher when the candidate doesn't even want to be written in. Though a push for an Adrian Fenty write-in continues to get a lot of buzz online, the exiting D.C. mayor himself seems to have little interest in it. In fact, Washington City Paper reports that many of Fenty's "closest and strongest supporters" will host a fundraiser for Vincent Gray next month.
As for another Internet rumor of a Washington job in Fenty's future -- that he could succeed Rahm Emanuel as White House Chief of Staff: there's absolutely nothing to it.
Politics
Political coverage from NBC4.
Elsewhere in the DMV:
* Congratulations, Mayor Gray! Here, have a deficit.
Maybe one reason why Fenty isn't so eager to keep running is the news of a projected $175 million D.C. budget deficit -- nearly twice as much as many were anticipating. Chief Financial Officer Natwar Gandhi broke the bad news to Gray and several members of the D.C. Council Monday. The Washington Post writes that though Fenty will leave office in January, "it will be business as usual until then, with the Fenty administration probably proposing cuts and the council weighing in."
At-Large Councilmember David Catania was understandably irked that Gandhi did not take the trouble to brief the entire Council, and, according to the Washington Examiner, "questioned the accuracy of some of Gandhi's predictions." But Ward 2's Jack Evans, who will be responsible for a lot of the hard work as head of the finance and revenue committee, said the situation is "much worse than we thought."
In his Examiner column, Harry Jaffe writes that Gandhi is likely to keep his job despite the unwelcome gift to the new administration. Though "some powerful veteran political operatives are still furious that Gandhi fired their friends immediately after he discovered the $50 million embezzlement scam by Harriette Walters," and others blame Gandhi himself for that scandal, "Gandhi and Gray are compatriots" who "respect one another." Jaffe says Gandhi's not gonna go.
* All the ballots are finally counted from D.C.'s Sept. 14 primary, and as political strategist Chuck Thies noted, the 133,854 votes in the mayoral race was the second-highest turnout ever. (More than 143,000 voted in 1994, the year of Marion Barry's mayoral comeback.) The final result for the Democratic mayoral nomination: Gray 54.3 percent, Fenty 44.5 percent. One interesting note: just four votes separated Jeff Smith and Bryan Weaver in the race for second place in Ward 1, where incumbent Jim Graham won renomination.
With the primary over, the Office of Campaign Finance says campaign finance violations against both campaign should be dismissed, City Paper reports. OCF says a complaint about Ron Moten's aid for Fenty should be rejected because the Fenty camp "neither requested nor contributed" to Moten's efforts, while a complaint filed by the D.C. GOP about two Gray print ads "that did not have the required language (like 'paid for') on them" did not merit action because the ads were paid for by a volunteer, not the campaign.
* The D.C. Board of Elections and Ethics has rejected charges by Richard Urban, an independent challenging Catania for his At-Large seat this fall, that fraud was involved in Catania's ballot access signature collection process. After the decision, Urban said, "I believe that voters should expect integrity in every aspect of a campaign. I believe that the voters will decide on Election Day based on Catania's integrity of his campaign, his voting record, and work while in office, and his character in general."
* Defeated mayoral candidate Leo Alexander, who according to the final tally received 908 votes in the Democratic primary, is gearing up for the spring special election to fill the At-Large seat of presumptive D.C. Council Chairman Kwame Brown. He plans to begin work on this next campaign in October.
* Georgetown developer Herb Miller is hoping for a place in the Gray Administration. The man who "redefined Georgetown by building Washington Harbour and the Shops at Georgetown Park," as the Georgetown Dish puts it, would like to cap off his 40-year career in the District with a role in city government. The Washington Post says Miller "has long ties to Gray" and "were members of the Tau Epsilon Phi fraternity, of which Gray became the first black member," at George Washington University. Gray says he will not make any personnel decisions until after he is actually elected in November.
* In Maryland, the Washington Post reports state labor secretary Alexander Sanchez "ordered a gloomy economic report removed from a state Web site last month that ran counter to a more positive spin" that Gov. Martin O'Malley's administration "had approved about slowing job growth in the state." E-mails documenting the removal were released by Republican Bob Ehrlich's campaign Monday. TBD reports Ehrlich said O'Malley appointees tried to "censor" a report that made their boss look bad, but "the O'Malley administration denies there was a cover-up, and said the document was created to start internal conversation, not to be released to the public."
* District 4A Delegate Paul Stull "will request a recount of the primary results, which had him seven votes behind Kelly Schulz," the Frederick News-Post reports. That's just "0.04 percent of the 15,358 ballots cast in the district."
Follow P.J. Orvetti on Twitter at @PJOinDC