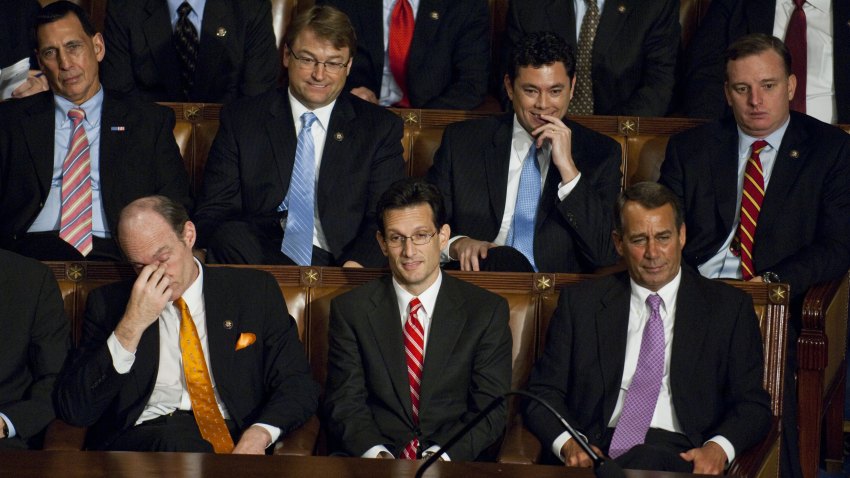 UPDATE: The Hill is reporting that Eric Cantor invited Minority Leader Nancy Pelosi (D-Calif.) to sit next to him at the SoTU, but she declined.

"I thank @GOPLeader for his #SOTU offer, but I invited my friend Rep. [Roscoe] Bartlett from MD yesterday & am pleased he accepted," Pelosi tweeted.

That means Cantor and Steny Hoyer can still be best friends for an hour this evening...
Politics
Political coverage from NBC4.
---
A Republican from Virginia sitting next to a Democrat from Maryland? On national TV? For about an hour?
However scandalous as that sounds, it might happen Tuesday night during President Barack Obama's State of the Union address.
Local lawmakers may be on board with the plan for the parties to mix. Majority Leader Eric Cantor, R-Va., told reporters that he would be more than happy to sit with his Democratic counterpart, Steny Hoyer of Maryland, during the address.
Heck, he even suggested that if working more productively together is everyone's goal, "maybe the sitting thing is a first step."
First step? You mean there will be more than just an hour date?
"Steny Hoyer reached out to me -- we're having lunch [on Tuesday]," Cantor told The Hill. "We had lunch and met a few times during the last Congress."
Appearing together on national TV. Eating meals at the same table. Is it just crazy talk, or is civility actually winning out as many push to mix Republicans and Democrats through the audience of Obama's televised address on Capitol Hill as a show of cooperation among the nation's leaders?
Hatched last week by Sen. Mark Udall, D-Colo., the idea caught fire over the weekend after a poll showed a big majority of the public wanting lawmakers of both parties to sit together at the presidential address. A spirited round of private phone calls and e-mails among lawmakers followed, and by Monday at least five dozen House members and senators had announced they had bipartisan dates for the big dance.
The result could be helpful to Obama as he delivers what is effectively the first speech of his re-election campaign. Rather than serving the traditional visual of the president's party popping up on one side of the chamber for dozens of standing ovations, the applause will be more evenly spread, perhaps giving the illusion of wider acceptance.
"If nothing else, it shows we are trying," said Rep. Paul Gosar, a freshman Republican from Arizona who will be sitting next to Rep. Elijah Cummings, D-Md. "That's a gesture that the American people really want to see."
It may be fleeting. Good manners for an hour on television carry no guarantees for the political battles that loom over health care and federal spending during the two-year presidential election cycle that effectively kicks off with Obama's speech from the well of the House.
And for some -- influential interest groups, for example -- the drive to mix it up now, in the raw aftermath of the Tucson shootings that left six dead and Rep. Gabrielle Giffords critically wounded, under the gaze of the victims' friends and family members who will be seated in the gallery, is offensive for its implication.
"The left has been promoting the idea that the tone in politics is one of the reasons why we had this tragedy in Arizona,'' said Brian Darling, director of government relations for the conservative Heritage Foundation. ``This (seating idea) has spun out of that line of reasoning.''
In truth, members of Congress are more than civil to each other in private, regardless of party affiliation. They play football and softball together. They travel to exotic locales and war zones in "codels,'' or congressional delegations. They have similar work lives as elected members of Congress, which for many means spending days or weeks at a time away from home.
So it's not much of a stretch for most to sit elbow-to-elbow with people who are members of the other party. Even so, the sprinkling of Republicans and Democrats across the chamber Tuesday night will be a carefully calibrated affair, more like prom dates than political marriages.
Rep. Shelley Moore Capito, R-W.Va., a co-founder of the House's civility caucus, said the prospect of bipartisan seatmates was the buzz on the trip back to Washington. The congressional women's softball team, she said, might sit together.
"But really, for the average citizen, they don't give a rip where we sit,'' Capito said in an interview.
Former Redskins QB and current Rep. Heath Shuler, D-N.C., said he may sit with other lawmakers who are fans of the game.
Copyright AP - Associated Press