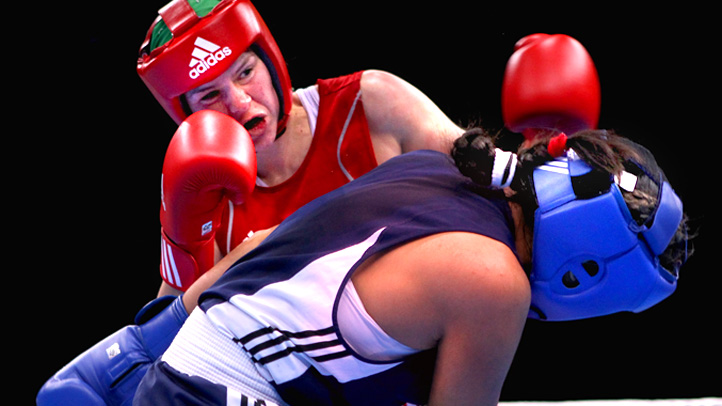 On a summer day in 2009 Dr. Christy Halbert, one of the world's top advocates for women's boxing, was up at 6 a.m., staring at her computer screen in Nashville, Tenn., awaiting the news from Germany.

The International Olympic Committee's Executive Board, meeting in Berlin, were deciding that day if women's boxing would be added to the 2012 London Summer Olympics, or whether they would reject it like they had before.

Boxing remained the only Summer Olympic sport that was not open to female athletes after women's wrestling was added in 2004. Though the Executive Board voted against bringing female boxers to the Beijing Games in 2008, there were reasons to be optimistic this time.
The sport was surging in popularity. Nearly 40 countries had just sent athletes to compete at the 2008 Women's World Boxing Championships — an event that didn't exist a decade earlier.
The Olympic gender scales also had been evening out. Women represented 42 percent of athletes at the 2008 Summer Games compared with 38 percent in 2000. The IOC had recently renewed commitments to continue the trend and advocates like Halbert had been pushing hard to bust lingering myths about such things as the fragility of women's bodies.

Halbert's quiet morning suddenly exploded into a frenzy of phone calls when the board's verdict came in: They said yes.

"It was huge," Halbert said. "It was a huge win not only for the Olympic Games, but for women and the sport of boxing." The congratulatory calls from friends, colleagues and reporters continued through the rest of the day, which she spent at a nephew's birthday party with her phone in hand.

"It was a celebration," she said. "But a muted celebration."

The finer print revealed that just 36 slots would be open to women across three out of the typical 10 weight categories. It was a stark difference from men's boxing, which would have 250 slots across 10 divisions.

The disparity is, in part, the result of an athlete cap that bars the IOC from allowing any more than 10,500 athletes to compete at the Games. To make room for women's boxing, an 11th weight category was shaved from the men's side.

The IOC is expected to do further adjusting to include more women in 2016, but in the meantime, only women who fit into the three current categories—flyweight (105 pounds to 112 pounds), lightweight (125 to 132 pounds) and middleweight (152 pounds to 165 pounds)—could even try for a spot at the London Games.

The weight limitations, critics say, have put women in an unfair position. Boxers outside the three categories have had to either dehydrate and diet into a lower division, or pack on muscle to grow into a higher one. While diets and scales are a part of any weighted sport, the more categories there are, the less need there is to make major weight adjustments.
U.S. & World
The day's top national and international news.
And the more categories there are, the less common it would be for two boxers at opposite ends of a weight class to face off in the ring. Leading up to Olympic trials, some top fighters who dominated weight divisions outside the Olympic three had trouble adjusting to a new one, while others battled just to reach a weight that could possibly lead to London.

Siona Fernades, a New Zealander who scored one of the coveted Olympic spots, had already dropped to 124 pounds from 141 before she began training for the Games. Once women's boxing was added to the docket, she agreed to lose an additional 13 pounds to fight as a flyweight — a division that would make her the biggest of the smallest and boost her shot of success.

"It was definitely hard for me," she said. "Mentally and on the body."

Fernandes became meticulous about everything she ate and barely made it down to her target weight before a world boxing tournament in China last May. Throughout the week-long event, her weight hovered dangerously close to the category's upper limit, sometimes creeping a pound or two above. Failing to make weight at any of the competition's daily weigh-ins would mean instant disqualification.

"I'd weigh myself every four to five hours and honestly, I wouldn't eat," she recalled. "I'd just sip a little bit of water after weigh-in, have some electrolytes, sometimes a bit of mashed bananas and honey. It was a mental battle."

Though she lost in the second round to the eventual winner at the 2011 event, she avoided disqualification and realized that if she wanted to make the weight loss permanent, she'd have to readjust her lifestyle—less socializing, no more pizza, no more alcohol.

The intense dieting and training paid off. Last month Fernandes, who just stumbled into boxing three years ago in an exercise class, won one of the 24 Olympic spots awarded to 2012 World Championship winners in Olympic weight divisions. (A special commission is in the process of filling the remaining 12 spots.)

But other top boxers, either didn't take their new weight as well as Fernandes did or were unable to fight through all the competition that suddenly swelled in the three Olympic weight divisions.

Some fighters who've been training and waiting for women's boxing to be added to the Games for years view the heightened competition in these divisions as yet another hurdle thrown in the way of female athletes.

The IOC maintains that the three weight classes are reflective of the relative newness of women's boxing, and will grow with the sport. Men's boxing has more Olympic slots, but the sport also has a higher rate of participation than women's boxing does. The Committee also points out that the International Amateur Boxing Federation, which establishes the rules of the sport, studied potential heath risks and assured the IOC that the current weight spreads wouldn't put the athletes in danger.

Still, the limited divisions do put women into difficult situations. Ariane Fortin, a two-time world champion from Canada, who has been boxing for the last 11 years had to gain 13 pounds for a shot at qualifying for the Olympic Games. The new weight put her into direct competition with her close friend and longtime teammate, Mary Spencer, who made weight adjustments of her own. The two, who had talked about going to the Olympics as teammates in separate divisions wound up fighting each other for one spot.

The competition between Spencer and Fortin garnered so much attention that it became the subject of a documentary, "Last Woman Standing." Spencer beat Fortin at the Canadian qualifiers and eventually won a ticket to the London Games, straining their relationship and leaving Fortin figuring out what to do next.

She insists the desire for additional weight categories doesn't reflect a desire for more medals. "There's a reason for it," she said. "The sport is not getting a full presentation, it's not appreciated to the level it should be."

Andrecia Wasson, a welterweight (152 pound) world champion from Center Line, Mich., was also expected to make it to London, but lost to Claressa Shields at a U.S. Olympic qualifying event. She had gained 13 pounds to get to the upper end of the middleweight category — a weight she didn't adjust to as well as she had hoped.

"I felt like in a way it could have slowed me down," she said.

For some women, changing weights had little effect. Spencer excelled after moving up two divisions, as did Mary Kom, a five-time world champion from India who's expected to dominate the Olympic flyweight category.

And many see the cutthroat competition — hundreds of women vying for 36 spots — as the essence of athletics and something that's sure to make the sport's debut one of the most elite events at the Games.

"The people on podium will be the top. Nobody is going to get there by having a good draw or being lucky," Fortin said. "But there will be really good boxers that will stay at home, for sure."