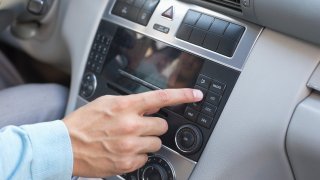 It's not nearly as popular as it once was, but a lawmaker from New Jersey is trying to keep AM radio from being dropped from electric vehicles — for what he says is a very important safety reason.
Automakers have been taking AM signals out of electric vehicles because they can cause engineering problems.
However, U.S. Rep. Josh Gottheimer wants to put a stop to the practice. He said eliminating AM radio is a threat to public safety.
We're making it easier for you to find stories that matter with our new newsletter — The 4Front. Sign up here and get news that is important for you to your inbox.
"If Elon Musk has enough money to buy Twitter and send rockets to space, he can afford to include AM radio in his Teslas," he said on Tuesday.
Gottheimer said that AM radio is one of the critical ways federal, state and local governments communicate with the public during natural disasters and other emergencies. It's what the National Public Warning System is broadcast through.
"The importance of AM radio during large-scale emergencies cannot be underestimated, and it has, without a doubt, and without interruption, saved lives and kept our communities informed," he said. "When the cell phone runs out, the internet gets cut off, or the television doesn't work because of no electricity or power to your house, you can still turn on your AM radio."
New Jersey Broadcasters Association Executive Director Jordan Walton said that AM radio's importance was on full display during and after Superstorm Sandy ravaged the state.
"There are plenty of business and economic reasons to preserve AM radio, but public safety — using the publicly-owned airwaves our stations have been lucky enough to borrow for 100 years — is the best reason," said Walton.
Gottheimer said in a press release that more than 47 million Americans — a fifth of the radio-listening public — listen to AM radio. He also said that time spent listening to AM radio has risen over the past five years.
In a letter he wrote to Sebastian Mackensen, the CEO of BMW North America, the congressman said that automakers are getting rid of AM radio because "electromagnetic noise can disrupt the reception of AM signals."
Automakers say the government's emergency management system needs to adapt to new technologies.