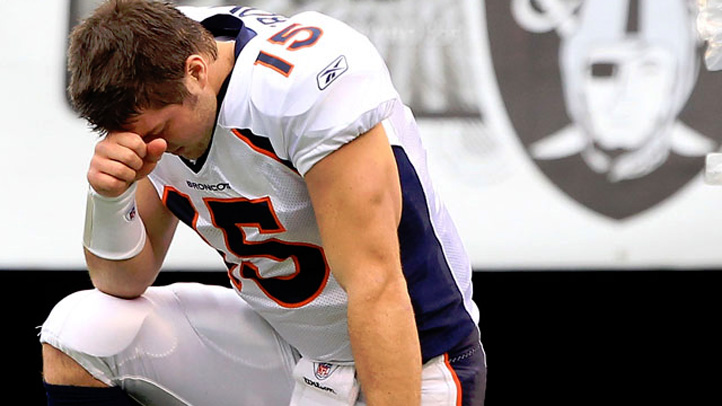 John Elway is saying all the right things. Last week, Elway declared that Broncos QB Tim Tebow "isn't going anywhere," while cleverly leaving out any mention of Tebow actually being the team's starter. Elway has had to walk a fine line all season long, making sure that Tebow lovers feel like their hero has gotten a fair shake from the organization, while maintaining the pragmatic view that Tebow probably isn't a long-term solution for his team.

The stats aren't in Tebow's favor. He's completing less than half his passes. He's fumbled more often than all but two other starting QBs, and done so in far fewer games. On the DYAR chart that Football Outsiders uses to rank QBs, Tebow falls behind the likes of Dan Orlovsky, Chad Henne, and John Beck. Elway can't sit back like Peter King and believe that Tebow defies stats because he's made of rainbows and cotton candy. Some of these terrible numbers have to matter, especially if the Broncos don't make the playoffs.

Earlier today, Mike Florio noted that Elway needs Tebow on Sunday to help save his reputation, but I couldn't disagree more. Elway doesn't need Tebow to succeed. In fact, I'm certain that he's rooting for Tebow to FAIL, since a playoff spot would only push back the rebuilding plan that Elway wants to put in place. He inherited Tebow, and it's a virtual certainty that he wasn't keen to have him on the roster at the beginning of the season (remember, someone at the Broncos leaked to Mike Silver that Tebow was the fourth best QB in camp, and I bet Elway had no problem with that leak).

If Tebow plays horribly against the Chiefs on Sunday and the Broncos lose the AFC West title, then Tebow has done Elway a favor. He'll have made it much easier, from a PR standpoint, to draft a new QB and turn Tebow into an all-purpose back. And you can't question the team's decision to make Tebow the starter because that's what the fans wanted, and because Elway never drafted Tebow to begin with.

I'm not a huge fan of former legends being hired to run pro teams. You only need to look at Michael Jordan's handling of the Wizards and Bobcats to know that it's usually a big mistake. I have no idea if Elway is qualified to run the Broncos. He probably isn't. But it won't be his fault if this particular Broncos team ends up 8-8 and out of contention. He needs to be allowed to rebuild this team on his own terms, and THEN fail miserably. Then we can all call for his firing with a clear conscience. Until then, he gets off scot-free while Tebow holds the Broncos hostage.