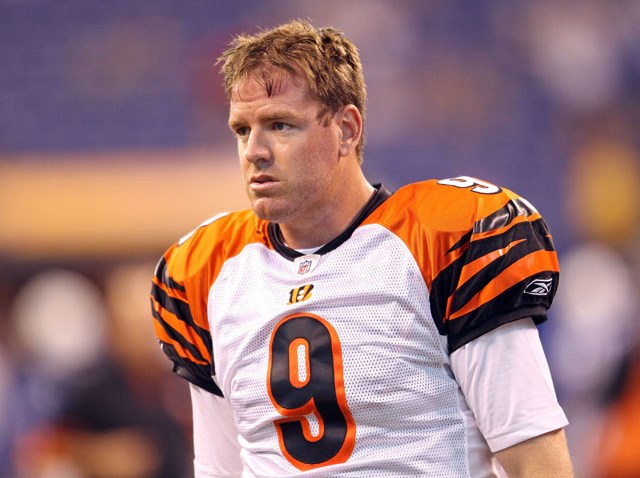 To me, there have been fewer sad stories over the past five years in the NFL than the steady deterioration of Bengals QB Carson Palmer.
Back in 2005, Palmer looked like one of the five best quarterbacks in football. He had a passer rating over 100. He threw over 30 TD passes. He led the Bengals to a division title. It seemed like the Bengals were going to become contenders for the next decade under his watch.
But then you know what happened. He got his knee torn apart against Pittsburgh in the playoffs, and since then he has grown more and more insecure and incompetent. And it's all coming to a head this season, with Bengals wideout Chad Ochocinco all but pinning the team's woes on his QB:
U.S. & World
The day's top national and international news.
"What am I supposed to do? I'm out there. I'm on the field. What do you want me to do? I'm on the field, I'm available, I'm wear number 85, I'm out there, I'M OUT THERE. I'm going to leave it at that. There's nothing I can do but make myself available. Period."
You can say Ocho is a loudmouth or a bad teammate all you like, but the fact is that he's being diplomatic when dancing around the real issue here. Over his past four fully healthy seasons, Palmer has experienced steady drops in passing efficiency and touchdowns, and his completion percentage is now under 60%, the usual barometer for decent passing. The Bengals have now lost four straight, and Palmer's only good showings have come in garbage time, at the end of key losses against Atlanta, Cleveland, and others.

Palmer has dealt with assorted injuries over the past five years, but that fails to fully explain why he's gradually become one of the league's worst starting QB's. Palmer is signed with the Bengals through 2014, but there's a very good chance he'll be released at the end of this season, so that the Bengals don't have to pay him franchise QB money. And if that happens, then they'll be forced to start from scratch, which is sad when you consider that the Bengals spent ages looking for a decent QB. They went through David Klingler and Akili Smith, only to fail time and time again. And now, once they finally seemed to find a truly great QB, he mysteriously falls apart.

The only reason Palmer probably hasn't been benched by now is that he lacks a capable backup (his current backup is his own brother Jordan, who lacks experience). But Cincinnati is bound to go shopping for a QB this offseason. And when that happens, the chapter will close on an era that once seemed so full of promise, only to end up crashing in flames.