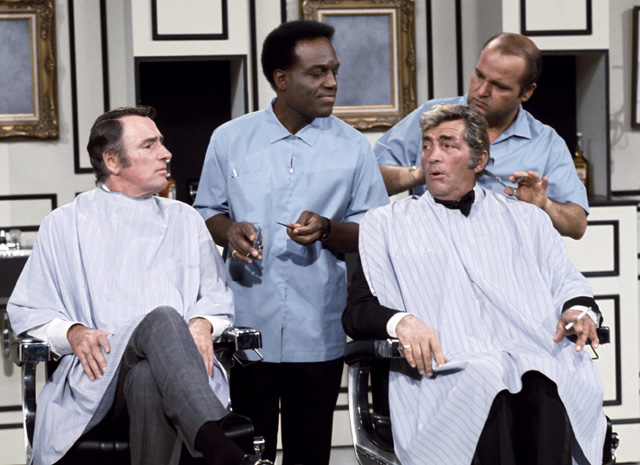 Everybody loves somebody sometime, but it seems like that sometime for iconic entertainer Dean Martin will never end.
The easygoing singer and actor, who found fame in the '50s through his comedy partnership with Jerry Lewis, then became a huge-selling recording artist, a major movie star, a member of the legendary Rat Pack and, at one point, both the highest paid entertainer in Hollywood and the old school singer who knocked The Beatles off the top of the charts.
But it was his hit television series "The Dean Martin Variety Show" – which aired from 1965 to 1974 on NBC – that firmly cemented his place in the hearts and minds of audiences. Clip packages from the series have sold strongly on home video via mail order for years, but now complete episodes (or nearly complete, given a few song copyright holdouts) are available in single-disc and multi-disc volumes to be both revisited by longtime fans and discovered by a new generation (a commorative book/CD package, Cool Then, Cool Now, will also be released June 7).
U.S. & World
The day's top national and international news.
"There was no one like him," the singer's daughter Deana Martin tells PopcornBiz. Deana, one of Martin's big brood of seven children, was a teenager when her father was first approached with the offer to headline his own series. "There were a lot of variety shows out there, but the difference was that Dad was so remarkable himself, and he's the one that made the show so much fun. He was just an amazing entertainer. He could sing, his comic timing was perfect and he was the bad boy. He broke all the rules."
At the height of Martin's musical and movie star bankability, landing him for a TV series seemed like a longshot, Deana recalls.
"I remember him coming home and saying, 'NBC wants to talk to me about doing a TV show.' At that time, you were either a TV star or you were a movie star, and movie stars did not do TV – heaven forbid! So Dad said 'Maybe I don't want to do that, but I'm going to have the meeting with them.' He asked for just a ridiculous amount of money and he said that he didn't want to rehearse, and that he only wanted to tape it on one afternoon, which was Sunday.
"They gave him everything that he wanted and he couldn't believe it," she continued. "But he was just so wonderful and easy about everything that he just took it all in stride. He never got a big head. That was something that was so attractive and appealing about Dad: he was just Dino Crocetti from Steubenville, Ohio."
Early on, many of Martin's showbiz pals were taken aback when they showed up to rehearse the show all week, only to be paired with writer/arranger Lee Hale (wearing a sign that said "Dean") until crooner showed up for Sunday's show taping.
Martin's unorthodox schedule gave the show a fun, freewheeling element – complete with adlibs and flubs that made it to air – that both his co-stars and viewers at home found irresistible. "It was a nice feeling at NBC," says Deana.
"It was just fun to be there, and to see all the stars that were on the show – oh my gosh!" She remembers her that her father particularly shined alongside some of his personal musical idols, like the Mills Brothers and Louis Armstrong, and Hollywood pals like John Wayne, Jimmy Stewart, Ronald Reagan (by then the governor of California) and Orson Welles – and a few others were even more special.
"Frank Sinatra, my favorite of all time, was always so nice to me and gave me my first singing lesson," remembers Deana. "Don Rickles came on, and boy, did he take off. I think that Dad really got a kick out of him. He couldn't believe that he would say those things. And Dad got such a kick out of Bob Newhart – maybe Dad would miss a line, but he'd look at Bob and they would laugh."
"Dean just enjoyed himself so much, and he'd break up," recalls Newhart. "I did a routine with him about returning a toupee, and he thought it was funny and started laughing. And then I started doing lines to him about him laughing, and I finally wound up saying 'Are you sure you worked with Jerry?' And he came back and said 'Yeah, but we never had anything this funny!' He was just a joy – people watched it and they felt good. 'Oh, there's crazy Dean! What's he gonna do next?'"
Deana, who guest-starred on the show, now tours the country performing many of her father's hits and meeting the fans who still idolize her father (Martin died in 1995). She's constantly reminded of how much her father was adored.
"If he would make a mistake he would just laugh and keep it in, and that's what was so charming about him," she said. "He didn't take anything too seriously and he knew that it was all alright. People just loved him and wanted to tune him every Thursday night."