Taylor Swift is used to making enemies.
Ever since he stormed the stage at the 2009 MTV Video Music Awards Kanye West seemed to have it out for the country pop singer. The two have since made nice, even sharing a hug at the 2015 Grammy Awards. As Swift says in Vanity Fair's September issue, Jay Z facilitated their new friendship.
"I feel like I wasn't ready to be friends with [West] until I felt like he had some sort of respect for me, and he wasn't ready to be friends with me until he had some sort of respect for me–so it was the same issue, and we both reached the same place at the same time," the 25-year-old "Shake It Off" singer says. "I became friends with Jay Z, and I think it was important, for Jay Z, for Kanye and I to get along."
Since finding common ground, Swift reveals, "Kanye and I both reached a place where he would say really nice things about my music and what I've accomplished, and I could ask him how his kid's doing."
VIDEO: Taylor Swift opens up about her BFF Selena Gomez
Last year, Swift made another enemy: Spotify.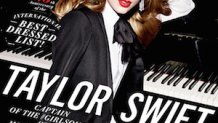 Swift wrote an op-ed for The Wall Street Journal that criticized the free-streaming service and explained why her music would be unavailable for its subscribers. "They talk about me a lot," Swift says of Spotify.
U.S. & World
The day's top national and international news.
The "Style" singer has made allies, too. This year, she wrote an open letter to Apple Music for similar reasons as her Spotify op-ed. "I wrote the letter at around 4 a.m. The contracts had just gone out to my friends, and one of them sent me a screenshot of one of them. I read the term 'zero percent compensation to rights holders.' Sometimes I'll wake up in the middle of the night and I'll write a song and I can't sleep until I finish it," she says, "and it was like that with the letter."
Because her Wall Street Journal op-ed was met with criticism, Swift admits she worried "people would say, 'Why won't she shut up about this?'...My fears were that I would be looked at as someone who just whines and rants about this thing that no one else is really ranting about." Before publishing her letter to Apple Music, the singer-songwriter reveals she read it to her mother. "I just said, 'I'm really scared of this letter, but I had to write it. I might not post it, but I had to say it.'"
After it went viral, she tells Vanity Fair, "Apple treated me like I was a voice of a creative community that they actually cared about. And I found it really ironic that the multi-billion-dollar company reacted to criticism with humility, and the start-up with no cash flow reacted to criticism like a corporate machine."
PHOTOS: Taylor Swift's ex-boyfriends
[[289629031, C]]
Swift's letter to Apple Music received added support from her famous group of girlfriends, which includes Lena Dunham, Selena Gomez, Gigi Hadid, Karlie Kloss, Lorde and Emma Stone, among others.
There are no jealousies within the group, Swift says. "We even have girls in our group who have dated the same people," the singer tells the magazine. "It's almost like the sisterhood has such a higher place on the list of priorities for us. It's so much more important than some guy that it didn't work out with."
Copyright E! Online