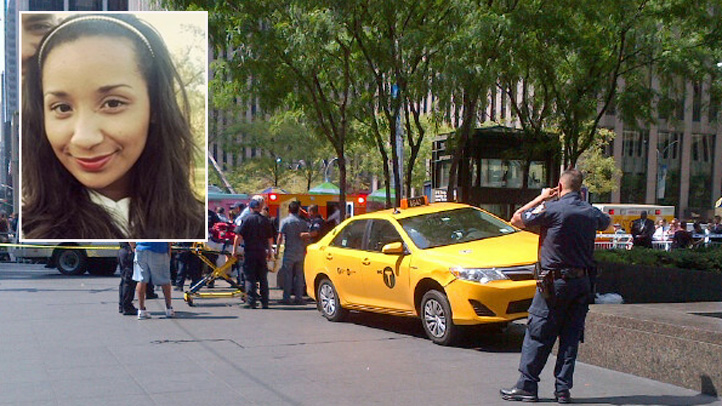 The parents of the woman whose leg was severed when she was hit by a taxi in midtown Manhattan said in a statement Thursday that they hope she is on her way to recovery, and thanked those who helped her after the crash.
Jason and Sonia Green thanked David Justino, the plumber who used his belt as a tourniquet on Sian Green's leg after she was struck Tuesday, and TV personality Dr. Mehmet Oz, who was also on scene because his office is nearby.
"We hope Sian will soon be on her way to recovery and will be able to personally thank all the kind people of New York City," the parents said.
U.S. & World
The day's top national and international news.
Green's left leg was amputated below the knee after the accident, according to Dr. Spiros G. Frangos, director of the the surgical intensive care unit at Bellevue Hospital. Frangos said the leg was too badly damaged for replantation.
Green's right leg was also wounded deeply in several places, said Frangos. The cuts were cleaned and repaired, and Green "will likely regain most functionality with time and physical therapy."
Witnesses told NBC 4 New York that 24-year-old Mohammad Himon's cab swerved to avoid a bike messenger when it ran up on the curb at 49th Street and Sixth Avenue on Tuesday and hit Green, who had just arrived in New York City for vacation.
Justino and other people nearby jumped into action after the crash in the busy plaza. A halal food vendor put the 23-year-old's severed leg on ice in a cooler. Oz arrived on the scene after Justino applied the tourniquet.
"They saved her life," Oz said.
Himon said Wednesday he felt "very, very" bad after the horrific crash.
"I feel sorry about that," said Himon, who immigrated to the U.S. from Bangladesh five years ago. "I always pray for her to God."
The cabbie wouldn't go into details of the crash, which he said happened "very, very quickly."
Investigators are probing whether the bike messenger may have startled Himon by banging on his trunk, and when he turned around, he hit the gas pedal instead of the brake.
Police are looking for video and sending technicians to determine what happened in the crash, including how fast the driver was going, Police Commissioner Ray Kelly said Wednesday..
"These collisions and accidents take some time to reconstruct, so that investigation is still going forward," he said. The driver has received summonses not related to the crash, and the investigation "is certainly not closed as of yet," Kelly said.
The driver and the bicyclist, who suffered minor injuries, were given alcohol breath tests at the scene and neither tested positive, a law enforcement official told NBC 4 New York.