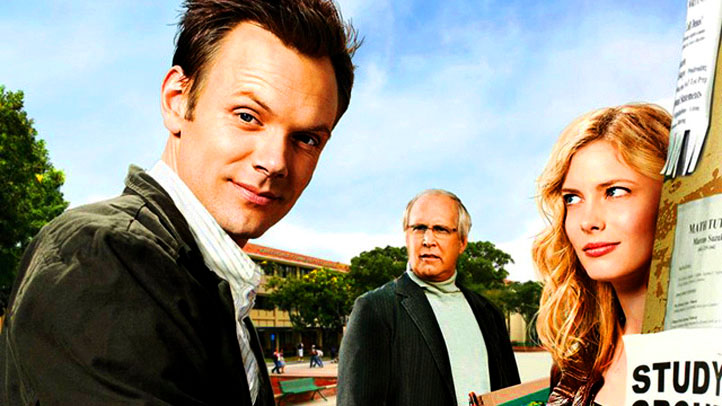 Don't start packing for summer vacation just yet: there's a slew of high-stakes season finales from your favorite shows ahead, and you'll want to stay glued to the tube – or at least DVR them – before stepping out into the sunshine. PopcornBiz serves up your guide to some of May's most anticipated season-enders, with some inside info from the stars.
Community – May 12
When last we saw the fractious Greendale study group, they were embroiled in yet another cutthroat paintball competition, complete with Sergio Leone overtones, a handsome stranger in the form of Josh Holloway, a $100,000 prize on the line, and the discovery of a conspiracy by the mysterious chicken-suited sponsor. In the second season closer, "For a Few Paintballs More," the students have to try to set aside their in-fighting to defeat their common foe – and the unification might get romantic for someone.
U.S. & World
The day's top national and international news.
"There are some interesting romantic twists and turns, and they do involve Annie," says star Alison Brie. "And when we read the script I was quite shocked at the direction that it went, but I think it turned out really good. There's a bit of a cliffhanger at the end, and I'm not sure people will know which way it's going to go. I may not know which way it's going to go! It's a big cliffhanger. I feel like we leave you on the brink of something bigger at hand."
Meanwhile, in a nod to Abed's ongoing obsession with "Cougar Town," sharp-eyed viewers should freeze-frame for paint-splattered cameos from that show's stars Busy Phillips and Dan Byrd.
Desperate Housewives – May 15
According to the original game plan, the ladies of Wisteria Lane were supposed to move on after season seven, but series creator Marc Cherry plans two more years of suburban sin and scandal. Although the show's official fate remains unconfirmed (negotiations are still in progress) the two-hour finale, "Come On Over For Dinner," features a progressive meal from household to household, with of the neighbors secrets being laid on the buffet table.
"It's a big night," star Teri Hatcher tells PopcornBiz. "It's really a big event on the Lane – and Mike and Susan haven't been back on the Lane a lot this season. So the finale really brings everybody together in a super-exciting way. I think it's in the proud tradition of some of the best episodes, like the one when we had Beau Bridges, which I thought was a great episode. That kind of storytelling."
Bones – May 19
As the sixth season's Sniper story arc comes to a close with a finale title – "The Change In the Game" – that portends a major shift in the show's status quo. A new character will appear ("Veronica Mars" and "Big Love" vet Tina Majorino as an FBI agent who style complements Booth's) and a regular character will die, upending the delicate dynamic between Brennan, Booth and their team.
"I think it resets the show in a different way," star Emily Deschanel tells Popcorn Biz. "Things change in these final episodes. There's a death in one of the episodes and that has repercussions, beyond just the person's death, that could change things forever. The death creates a domino effect – it changes things and will effect next season, for sure."
"The relationship will really take on a whole different turn," adds David Boreanaz. "But that's not to say that things won't get messed up in Season Seven, because I think that lends itself to the two characters splitting apart somewhat – but having to deal with something that's pretty big for them."
Meanwhile, "Bones" producers are still brainstorming exactly if/how Deschanel's real-life pregnancy will be addressed in the coming season. "Whether we hide my pregnancy or write it into the show, I see pros and cons to both," says Deschanel.
Grey's Anatomy – May 19
It wasn't too long ago that "Grey's" was looking ready for life support, but last year's shocking Seattle Grace shootout and a fresh round of interpersonal entanglements re-energized the seventh season. This year's finale, however, will not be traumatic, at least as far as body count, but the emotional stakes are still high: Meredith's (Ellen Pompeo) career – and her relationships – are jeopardized over her clinical trial falsehoods, Cristina's (Sandra Oh) compromising situation forces a major choice between career and love, and the Chief Resident is finally chosen.
"There's a huge race for Chief Resident going on right now that Jackson's right in the middle of – I think more than people know right now," star Jesse Williams (Dr. Jackson Avery) tells PopcornBiz. "I consider this season a very transitional season. After the shooting last season, people were kind of shattered on the floor and are now putting the pieces back together. This year that this wrap up is going to be the culmination of all of that: romantically, relationships, character work. It's going to be very different event than the finale we had last year."
Private Practice – May 19
As she has for its sister series "Grey's," creator Shonda Rimes is promising a lower key fourth season finale than in previous years – but expect the last the last two minutes to blow your mind. We're expecting a sweet – rather than shocking – sendoff for series regular Naomi (Audra MacDonald, who may yet recur next season), so expect the focus to land on Addison's (Kate Walsh) baby-making ultimatum to Sam (Taye Diggs) and the arrival of new cast member and Addison-admirer Conor (Benjamin Bratt) – plus some grace notes following Charlotte and Cooper's (KaDee Strickland and Paul Adelstein) wedding.
"After the wedding, there's even more payoff coming in the finale," Strickland tells PopcornBiz. "And now we have the lovely Benjamin Bratt, which is very exciting. He is not like any other character on the show. That's your tantalizing hint – that's all you're getting about Benjamin Bratt!"

The Event – May 23
The show's "on the bubble" status for a second-season renewal has its die-hard fans contemplating their own infiltration of network headquarters to ensure its survival. Whatever the series' fate, the first season finale "Arrival" promises to satisfactorily tie up a considerable amount of its long-dangling loose ends, while planting a few seeds for a hoped-for second season.
"Everything that you thought you knew about the show and everything that you assumed about the character's storylines is now all completely upside down and backwards," star Jason Ritter tells PopcornBiz. "It's an all out scramble for power, and people are taken out of their positions in various ways – It's pretty crazy right now! Something comes to an end, and then there are teasers of the things that they're going to be dealing with next season. They're going to tie a lot of things up – I don't think they're going to just leave it all completely unraveled or unravel it even further. Then with a couple of the loose threads they'll start a new story arc."
Glee – May 24
The second season finale is as shrouded in mystery as anything "Glee" can be (as is its title), but we do know the following: there's a funeral of someone close to the McKinley-ites (and it's not a canary this time: Sue's sister Jean tops fan speculation); a song from Matthew Morrison's debut album will be performed by Mr. Schue himself, and the show choir sings an original song "Light Up the World"; teen songbird Charice will be back as Vocal Adrenaline's Sunshine Corazon, and the New Directions kids will hit the Big Apple for their big Nationals show-down.
"Nationals is coming up and I think that's really our primary focus," says series creator Ryan Murphy, who'll be putting the show's guest star obsession on a backburner. "It's this big national event where they finally get to face their big rivals once again, so that's a pretty big drive."
The season-long story arc involving Dave Karofsky (Max Adler) and the soul-crashing bullying at McKinley High will finally come to a resolution as well. "I love the story that it's telling," star Jenna Ushkowitz tells PopcornBiz. "The way that he's kind of this suppressed kid who doesn't feel like he can come out and be who he really is. So I think they're going to take care of it very, very carefully, and I'm really excited for that."
Murphy agrees, hinting at a triumphant, rather than tragic, conclusion. "The tone of the show is inspiration and aspiration, so I hope we can make it a positive thing."
Dancing With the Stars – May 24
Only four celebrity competitors are left cha-cha-ing – Kirstie Alley, Hines Ward, Chelsea Kane and Ralph Macchio – and only one can twirl away with the coveted Mirror Ball trophy. But in a rare "DWTS" season where no single, clear frontrunner has emerged, it's truly anyone's to win – or lose, with one misstep.
"At this point it's about consistency," competitor Chelsea Kane tells PopcornBiz. "Everyone has been at the top of the leader board, and I think the weakest performance that night is going to be the one that goes home, because at this point everyone is good and they're only getting better. I feel like you have to deliver from here on out every Monday night. There's no get-out-of-jail-free card in this competition!"
Cougar Town – May 25
The second season finale, "Something Good Coming" (airing in two back-to-back parts), culminates with a scenery shift from sunny Florida to even sunnier Hawaii, where Jules (Courteney Cox) and the gang travel to help her son Travis (Dan Byrd) deal with some serious heartbreak – but Travis also finds solace – in song – with another depressed soul-searcher: "Scrubs" hapless hospital lawyer Ted Buckland (Sam Lloyd).
"I just like the show at the end of the year being about something," says creator Bill Lawrence (who also created "Scrubs"), "and I feel like the end of this year is really about Courtney's son's descent into following his father's footsteps, and how it affects the whole group. He kind of becomes an unemployed ne'er do well, living on a boat. I think people will really enjoy the last few shows."
"I'm excited that we get to watch Travis grow up," star Courteney Cox tells PopcornBiz. "We get to watch Jules stop being so controlling of her son. We get to watch Bobby become more of an independent man and not such a man-child. And watch Grayson and Jules figure out real life problems: you know, 'What about kids?' And we'll get to watch Laurie and Ellie just have really funny stories."