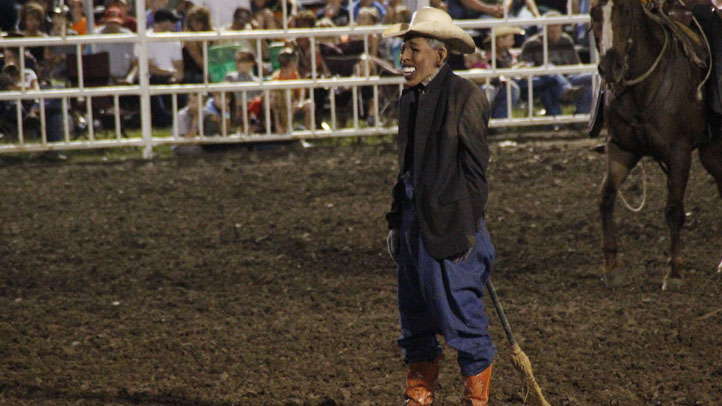 The rodeo clown who wore a Barack Obama mask during a show at the Missouri State Fair has been permanently banned from performing at the event ever again.
The Missouri State Fair apologized for the weekend rodeo stunt mocking Obama that has been slammed by state officials from both parties.
The state fair commission unanimously approved the motion, according to a statement.
U.S. & World
The day's top national and international news.
Video of the state fair incident aired by NBC affiliate KSHB showed a rodeo clown standing in the middle of the arena wearing an Obama mask, while an announcer rallied the crowd into a frenzy by saying, "We're gonna smoke Obama, man."
A bull was unleashed from the bullpen, but the Obama clown left the arena about 15 minutes later after the bull got too close, according to The Associated Press.
Spectator Perry Beam told KSHB that the crowd "went wild" during the stunt.
Beam said he witnessed another clown running up to the one wearing the Obama mask and played with the lips on the mask.
"Like an effigy, at a Klan rally," Beam told the "Today" show by phone. "There would have been no reason to mess with his lips if he would have been a white president."
Democratic Senator Claire McCaskill called the rodeo antic "shameful" and "unacceptable."
"I condemn the actions disrespectful to POTUS the other night," tweeted Republican Lt. Gov. Peter Kinder. "We are better than this."
The Missouri State Fair agreed in a statement to NBC News that the performance was disrespectful. "We strive to be a family friendly event and regret that Saturday's rodeo badly missed that mark."
Lt. Gov. Kinder sent a follow-up tweet calling for Gov. Jay Nixon to take action.
I love the @MoStateFair and will attend this week. I implore @GovJayNixon to hold the people responsible for the other night accountable. — Peter Kinder (@PeterKinder) August 11, 2013
Visit NBCNews.com for breaking news, world news, and news about the economy