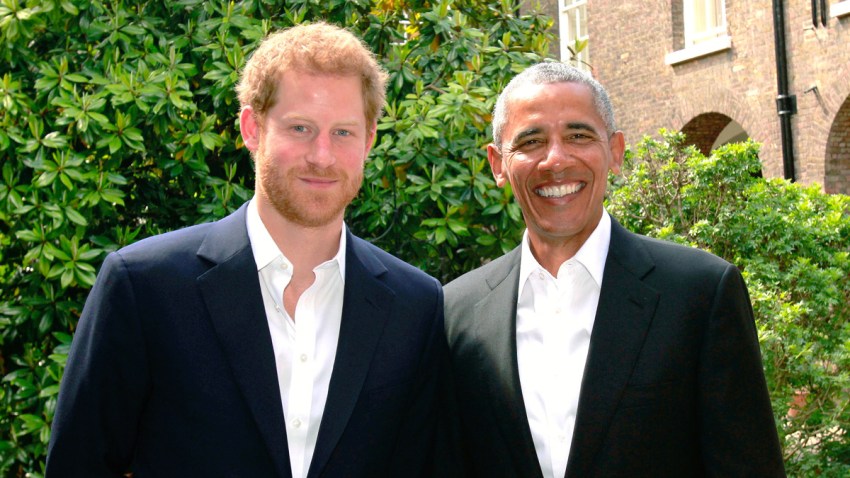 Prince Harry hosted former U.S. President Barack Obama Saturday at Kensington Palace, where they discussed the deadly terrorist attack in Manchester.
On Monday, a suicide bomber killed 22 people, including children, at Manchester Arena after Ariana Grande finished a concert. The attack marked the deadliest terrorist incident in the U.K. since the 2005 London bombings.
"Good to see my friend Prince Harry in London to discuss the work of our foundations & offer condolences to victims of the Manchester attack," Obama tweeted.
U.S. & World
The day's top national and international news.
The two last met in April 2016, when Obama and then-first lady Michelle Obama dined with Harry, his brother Prince William and his wife Kate Middleton at Kensington Palace. In 2015, Harry visited the White House.
Also during their recent meeting, Harry and Obama discussed shared interests such as support for veterans, conservation, the empowerment of young people, the work of their respective foundations and mental health.
In a rare, candid interview last month, Harry revealed that he sought professional counseling after initially shutting down his emotions and nearing a "complete breakdown" several times following the 1997 death of their mother, Princess Diana. The princes and Kate have also long spearheaded a campaign by the charity Heads Together to end the stigma around mental health.
The meeting followed Obama's first trip to Scotland Friday. There, he played golf in St Andrews and attended a private charity dinner in Edinburgh.
Obama visited Berlin Thursday and spoke about the Manchester suicide bombing, offering condolences to the families of the victims and to the survivors.
"As the father of two daughters, I am heartbroken by the extraordinary tragedy that has occurred in Manchester," he said in a video posted by German Chancellor Angela Merkel's spokesperson. "To all the families who have been affected, to those who are still recovering, to those who've lost loved ones, it's unimaginable to think about the cruelty and the violence that the city of Manchester has suffered."
Copyright E! Online