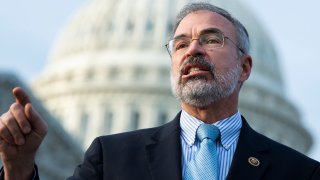 U.S. Capitol Police are investigating a report that Rep. Andy Harris, R-Md., tried to bring a gun onto the house floor on Thursday, a department spokesperson told NBC News.
During a House vote on Thursday afternoon, Harris was stopped at security and then immediately turned around. He briefly huddled with Rep. John Katko, R-N.Y., by the elevators, and may have discussed the weapon with Katko, according to a report by HuffPost.
"One security official present saw a firearm on the person of Rep. Harris and relayed that to his superiors," a Capitol official told NBC News. "To be clear, Rep. Harris did not enter the Floor."
Harris' office responded to a request for comment overnight.
U.S. & World
The day's top national and international news.
"Because his and his family's lives have been threatened by someone who has been released awaiting trial, for security reasons, the Congressman never confirms whether he nor anyone else he's with are carrying a firearm for self-defense. As a matter of public record, he has a Maryland Handgun Permit. And the congressman always complies with the House metal detectors and wanding. The Congressman has never carried a firearm on the House floor," the statement said.