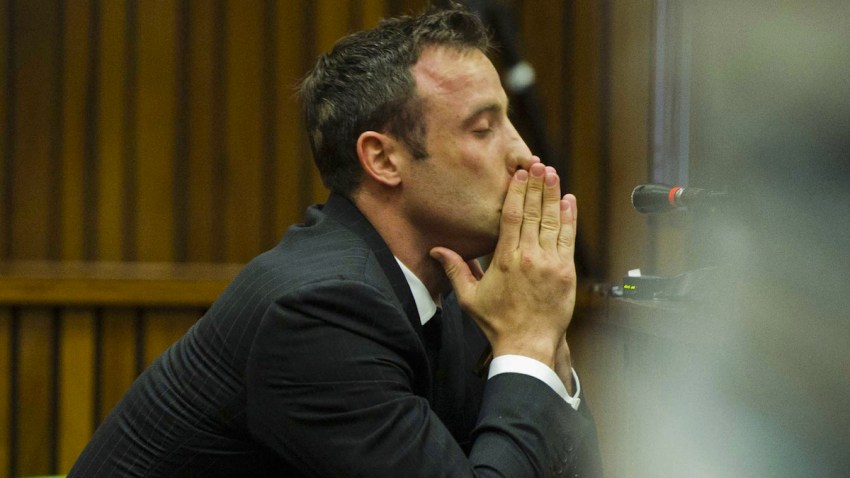 The chief defense lawyer at Oscar Pistorius' murder trial on Thursday pointed out alleged missteps by police and questioned their treatment of evidence in the investigation of the athlete's killing of his girlfriend.
Lawyer Barry Roux cross-examined a police forensics expert for a second day, challenging his analysis of a bullet-marked toilet door that was removed from the bathroom at Pistorius' home, where the double-amputee athlete fatally shot Reeva Steenkamp before dawn on Feb. 14, 2013.
Pistorius has said he shot Steenkamp by mistake through the door, fearing there was a dangerous intruder in the house. The prosecution says he intentionally killed her after an argument.
U.S. & World
The day's top national and international news.
Roux said fragments went missing from the door after police investigators took possession of it, and he questioned the reliability of police studies of the door. The lawyer also noted that Vermeulen had not read Pistorius' version of events on the night of the killing until after he had completed his forensic study of the door, and was therefore leaning toward the prosecution's version of what happened.
The colonel's testimony has also focused on a cricket bat that Pistorius said he used to break through the toilet door to get to Steenkamp after, according to his account, realizing his mistake.
On Wednesday, Vermeulen knelt and swung the bat to show how he believed Pistorius struck the door from a low angle, indicating he was on his stumps at the time. Roux insisted Pistorius was wearing his prosthetic legs, saying the bat marks on the door were low because he swung with a bent back.
The back-and-forth over whether Pistorius, the first amputee to run at the Olympics, was on his prosthetic limbs or not is important because it could match parts of his story that he accidentally shot Steenkamp, or expose inconsistencies in it.

Copyright AP - Associated Press