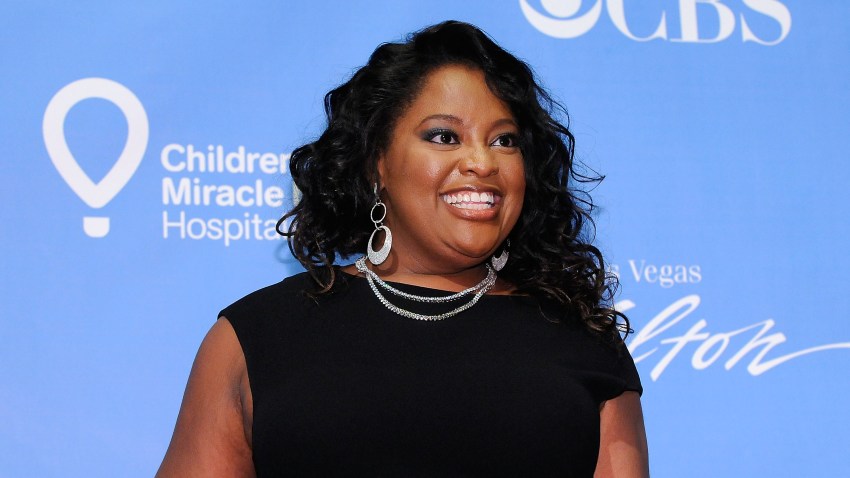 When it came to her latest acting role, "The View's" Sherri Shepherd didn't do this one for the money: she did it for the love.
Shepherd plays the streetwise – if style-impaired – streetwalker Lula opposite Katherine Heigl's Stephanie Plum in "One For The Money," the film adaptation of the first installment ofJanet Evanovich's bestselling novel series, and she tells PopcornBiz that the gig was definitely not for the paycheck. It's a part she's been dreaming of playing for the past seven years.

How was getting back to acting after spending so much time as yourself on camera over the past few years?
I love it. I love doing 'The View' – that's a dream come true – but it's nice to be able to play all sides of the coin, especially doing film and playing this character, because I've been a fan of Janet Evanovich for over seven years and I've read her books. So when I first read 'One For the Money,' over seven years ago, I said, 'Lord, if they ever make this into a movie please, please I beg of you let me play Lula,' and I put it on my vision board. That's something that was always on my vision board and someone tweeted me, a fan. She said 'They're casting for this movie.' I was like, 'Oh my gosh! WWLD – What Would Lula Do?' So I ran into the dressing room and I found a miniskirt and an electric blue tube top and I put those on with my hooker heels and my long wig and I ran across town in New York to this audition. When I got into the room I said to the casting directors, 'I have read these books. I know Lula. I love Lula,' and I got the job. I got the job! I did the audition and they called me back and I booked it.

Did you get nervous after you got the job – because then you had to pull it off?
U.S. & World
The day's top national and international news.
Yeah. I did get nervous because fans of Janet Evanovich are diehard fans. There are blog sites about who should play Ranger, Morelli, Lula and my name was always bandied about. So there was pressure because she writes so beautifully that everyone had in their head how Lula and these other characters were supposed to be, act, talk. So that's a lot of pressure, because Janet Evanovich has written 18 books that were bestsellers before they even hit the shelves. I was just like 'I don't want to let anybody down,' because Lula is a character that's physically bigger than me. She's a large woman. I think that Janet Evanovich wrote of her that she's busting out of her clothes. I just hope that my acting, that the fans will go, 'She's such a great actress that she pulls this off.' So I did this with a lot of love and a lot of joy and I hope that they receive that.

How comfortable were you with the way-out-there wardrobe?

Oh my gosh. I told them: I said, 'Ya'll don't need a good body double. I'm bringing my own back fat. It's in my suitcase. Give it to me. Slap it on here. Slap it on me.' This was the best role. I'm going to tell you why: because I didn't have to hold my stomach in. There were no Spanx allowed. On my trailer I said, 'No Spanx.' I said to them when we met, when I consulted with wardrobe, I said, 'Lula is the type of person that walks into a store, something would have been on clearance for three years and she'd go, "Why didn't anybody snap this up?"' Nothing was too over the top. I said, 'I just feel like Lula, on a Tuesday, she'd have blonde hair. On a Wednesday she'd have blue hair.' They let me go with it.

How did your own style evolve when you started making some real spending money to indulge yourself?
When I was a legal secretary I worked right around the corner here [from the Four Seasons Hotel near Beverly Hills]. So you get to see things that you've seen in magazines and you said, 'Okay, this is not in my budget,' and then you get that first paycheck and you're like, 'Okay, I can go get it.' I got my first pair of Christian Louboutins. I'd always see these red-bottom shoes and I was like, 'Oh my gosh, I want these shoes!' And I got them. I was like, 'Why did I get these damn shoes?' They hurt my feet. They were tight, but I always wanted a pair. So I got them.

Like Lula, you started in one place and then ended up in a better place, but you still seem so connected to who you were then. Can you talk about keeping that sense of perspective and remembering that girl who dreamed of the things that you have now?
I guess it's because I struggled for so long. I've been doing standing up comedy, I started with Jamie Foxx and Chris Tucker back in the early '90's. I got evicted more times than I can count and would take the bus because I went downstairs and made a repo of my car. Three times my car got repo'd and I went to jail for eight days because I had traffic warrants. I remember that like it was yesterday, and like I said, I worked around the corner at that law firm, Wilshire & Canon, for about six years. I would take the bus, and so I still keep in touch with all of the secretaries. They all came to my wedding, both weddings and as a matter of fact on my break I'm going over there to say hey. I call the girls all the time at the law firm and we get to kind of like scream together about the things that I'm doing. I called them when I was on the set and I said, 'Oh, my gosh, I'm in Daniel Sunjata's room.' They were all in the conference room, in the lawyer's room. They had me on the phone. They were like, 'Girl, what's in his trailer?' I said, 'I'm going to take a picture with my camera phone. Here's his clothes.' Someone was like, 'Sniff his clothes!' I mean, these are my girlfriends. So, I get excited because for me it's a dream come true and if I pinch myself I'm going to wake up and there's going to be a lawyer going, 'Get those documents! Stop dreaming!' That's what it feels like. It feels like a big dream, like, I'm going to wake up and go, 'I dreamed I was a talk show host and an actress in films. Okay, let me type your documents.'
How much room do you have to act, given that you're working constantly on 'The View,' hosting the new "Newlywed Game" and then being a newlywed yourself?
I don't get to do a lot, because I'm in New York and so many things take place in L.A., but I'm so thankful that I got a woman named Tina Fey who says, 'We'll work around "The View's" schedule,' and I get to do '30 Rock.' Then with 'One For The Money' I got to fly out and Barbara Walters let me take off to do it. 'The Newlywed Game,' they moved that to New York so that I could host it. So I've been very blessed in that respect.
How's married life?
I'm loving it. I liken it to us being two imperfect people trying to fit our issues into one bag. It's my second marriage and I'm doing things a little differently. It's going good. We've only been married since August so I can't give no marriage advice. I don't like when people go, 'What's some good advice?' I just got married. Hell, I don't know.
Once that anticipation is over, when the rings are on and the wedding's all said and done do you feel different since you were already so close before?
I keep saying to myself that I feel like we're still dating. It feels differently because he's got such a great relationship with my son and that develops and watching that get stronger…it feels differently when I order pizza and they ask what my name is and I go, 'Sherri Shepherd.' He goes, 'Who?' I go, 'Oh, Sherri Sally. That's right. My name is Sherri Sally.'

Having starred in that brilliant episode of "30 Rock" playing Angie Jordan in her reality series "Queen of Jordan," have you ever been approached to do a reality show?
Yes. But I don't think that you need to see that much of me. I miss the days of when we had movie stars and we didn't know so much about everyone's private life. On 'The View' I have to give a lot of my private life, but I think when you give so much of your private life you really open the door for people to give their opinion and know things about you. So, I kind of cherish that thing that I get to take home and it's just Jeffrey and Sal and I. So, I'm not keen on doing a reality show because I think you finish it and you look back and go, 'Oh, God. I can't believe I put that out there.'


"One For the Money" is in theaters everywhere this Friday, January 27th. "30 Rock" airs Thursdays at 8 PM ET on NBC