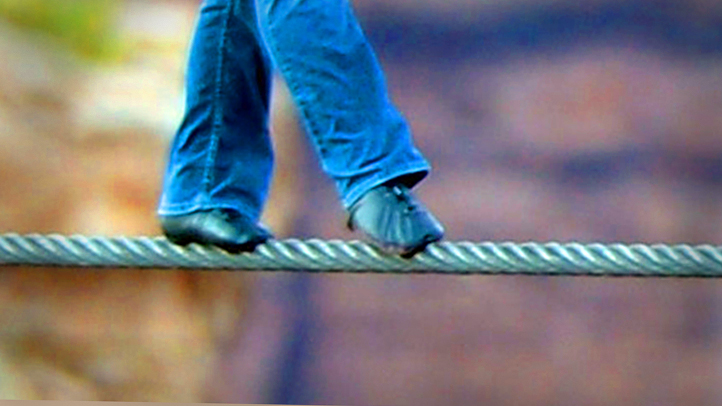 Florida aerialist Nik Wallenda said he was working "for every single foot" on a historic tightrope walk that took him a quarter mile over the Little Colorado River Gorge in northeastern Arizona.
Wallenda said on NBC's "Today" show Monday that he had not been prepared for the movement of the 2-inch-thick steel cable beneath his feet on Sunday after temperatures forced the cable's tension to drop below expectations.
"It was moving pretty wildly under my feet," he said. Wallenda said if the cable was more stable he could have relaxed more, though at no point did he think he was going to fall to his death.
U.S. & World
The day's top national and international news.
Wallenda performed the stunt 1,500 feet above the river on the Navajo Nation near the Grand Canyon. He took just more than 22 minutes, pausing and crouching twice as winds whipped around him so that he could get "the rhythm out of the rope."
"Thank you Lord. Thank you for calming that cable, God," he said about 13 minutes into the walk.
Wallenda didn't wear a harness and stepped slowly and steady throughout, murmuring prayers to Jesus almost constantly along the way. He jogged and hopped the last few steps.
The event was broadcast live on the Discovery Channel.
Winds blowing across the gorge were expected to be around 30 mph. Wallenda told Discovery after the walk that the winds were at times "unpredictable" and that dust had accumulated on and around his contact lenses.
"It was way more windy and it took every bit of me to stay focused the entire time," he said.
The 34-year-old Wallenda is a seventh-generation high-wire artist and is part of the famous "Flying Wallendas" circus family — a clan that is no stranger to death-defying feats.
His great-grandfather, Karl Wallenda, fell during a performance in Puerto Rico and died at the age of 73. Several other family members, including a cousin and an uncle, have perished while performing wire walking stunts.
Nik Wallenda grew up performing with his family and has dreamed of crossing the Grand Canyon since he was a teenager.
Sunday's stunt comes a year after he traversed Niagara Falls earning a seventh Guinness world record.
Wallenda wore a microphone and two cameras, one that looked down on the dry Little Colorado River bed and one that faced straight ahead. His leather shoes with an elk-skin sole helped him keep a grip on the steel cable as he moved across.
About 600 spectators watching on a large video screen on site cheered him on as he walked toward them.
Before the walk, a group of Navajos, Hopis and other Native Americans stood along a nearby highway with signs protesting the event.
The stunt was touted as a walk across the Grand Canyon, an area held sacred by many American Indian tribes. Some local residents believe Wallenda hasn't accurately pinpointed the location and also said that the Navajo Nation shouldn't be promoting the gambling of one man's life for the benefit of tourism.
"Mr. Wallenda needs to buy a GPS or somebody give this guy a map," said Milton Tso, president of the Cameron community on the Navajo Nation. "He's not walking across the Grand Canyon. He's walking across the Little Colorado River Gorge on the Navajo Nation. It's misleading and false advertising."
Discovery's 2-hour broadcast showcased the Navajo landscape that includes Monument Valley, Four Corners, Canyon de Chelly and the tribal capital of Window Rock.
"When people watch this, our main thing is we want the world to know who Navajo people are, our culture, traditions and language are still very much alive," Geri Hongeva, spokeswoman for the tribe's Division of Natural Resources, said before the walk.
Wallenda said after completing Sunday's high wire act that he next dreams of walking between New York City's Chrysler Building and the Empire State Building, Reuters reported.
Copyright AP - Associated Press