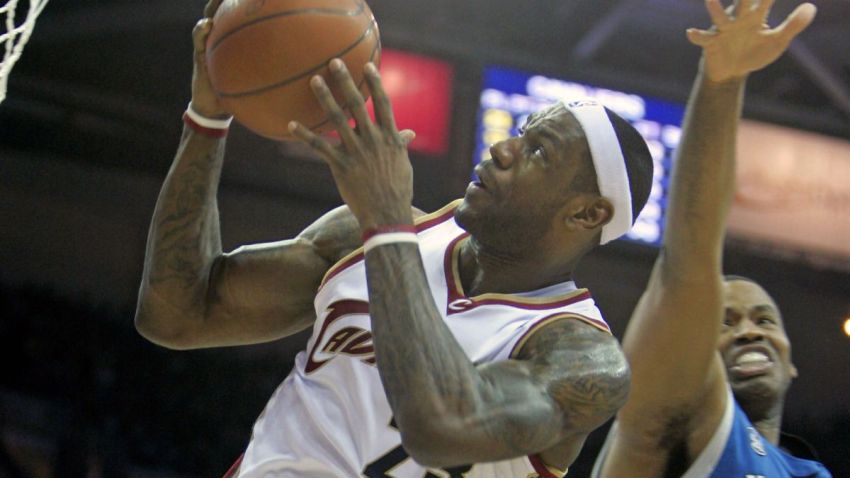 CLEVELAND — LeBron James scored 25 points and Mo Williams added 22 to lead the Cleveland Cavaliers to their 11th straight win, a 107-85 victory over the Minnesota Timberwolves on Friday.

Cleveland's victory ties the franchise record for consecutive wins in a season. The Cavaliers (59-13) also won 11 straight from Nov. 22-Dec. 12 this season, and have accomplished the feat four other times.

James grabbed 12 rebounds and had seven assists in 34 minutes.

Kevin Love and Randy Foye each scored 18 points for the Timberwolves, who have lost 18 of 20.
Lakers 103, Nets 95

At East Rutherford, New Jersey, Pau Gasol had a season-high 36 points and 11 rebounds as the Los Angeles Lakers clinched the top playoff seed in the Western Conference with a victory over New Jersey.

Shaking off some uncharacteristic poor shooting early and a sprained right ankle before halftime, Kobe Bryant scored 12 of his 14 points in the second half and added nine assists as the Lakers (58-14) won their fifth straight.

Derek Fisher added 18 points and Lamar Odom had 12 points and 11 rebounds in Phil Jackson's record-setting 728th game as the Lakers' coach.

Vince Carter had 20 for the fading Nets, who lost their third in a row.
Knicks 103, Hornets 93

At New York, Al Harrington scored 23 points, and David Lee added 18 points and 11 rebounds, as New York beat New Orleans to snap a six-game losing streak.

Chris Duhon ended a long slump with 15 points and Wilson Chandler also scored 15 for the Knicks, who are still mathematically alive for a playoff spot but realistically blew their chances for a spot by matching their longest skid of the season.

David West scored 29 points for New Orleans, which has lost two in a row following a three-game winning streak.
U.S. & World
The day's top national and international news.
Celtics 99, Hawks 93

At Atlanta, Glen Davis filled in with 19 points and 12 rebounds to lead Boston past Atlanta.

Davis matched his career high in rebounds, and Ray Allen led Boston with 22 points.

Boston coach Doc Rivers held out Kevin Garnett, who's still experiencing soreness after missing 13 games with a right knee strain.

Joe Johnson and Josh Smith each scored 22 points for Atlanta.
Magic 110, Bucks 94

At Orlando, Florida, Rashard Lewis scored 19 points and Hedo Turkoglu added 18 as Orlando beat Milwaukee.

Dwight Howard added 18 points and eight rebounds in another strong defensive effort for Orlando.

Ramon Sessions and Charlie Bell had 19 points apiece for the Bucks, who lost their fourth straight and were dealt another crushing blow to their already fading playoff hopes. Milwaukee (31-42) is four games back of Chicago and Detroit for the East's final playoff spot with nine games left.
Bobcats 100, 76ers 95

At Philadelphia, Boris Diaw scored 24 points to help Charlotte keep its slim playoff hopes alive with a win over Philadelphia.

Ray Felton added 20 points for the Bobcats, who won for the first time in five road games. With the victory, Charlotte (32-40) inched closer to idle Detroit (34-37) for the final playoff spot in the Eastern Conference with 10 games remaining.

Andre Iguodala scored 25 points and Thaddeus Young added 20 points for Philadelphia, which trailed by as many as 19 points.
Raptors 112, Thunder 96

At Toronto, Chris Bosh had 21 points and 13 rebounds, and Shawn Marion added 20 points and 11 rebounds as Toronto beat Oklahoma.

Jason Kapono scored 15 points and Andrea Bargnani had 14 points and nine rebounds for the Raptors, who led by as many as 25 and matched a season high with their third straight win.

Nick Collison scored 21 points and Kevin Durant had 18 for the Thunder, who have lost four of five.
Nuggets 103, Mavericks 101

At Dallas, Carmelo Anthony made three free throws and a tough layup in the final 43 seconds, capping a 43-point performance that lifted the Denver over Jason Kidd-less Dallas.

Kidd hurt his lower back Wednesday night and missed his first game for Dallas after playing 100 straight since being acquired last year.

Dirk Nowitzki scored 26 points, but missed a go-ahead jumper with about 10 seconds left and fell after grabbing a rebound of Anthony's missed final free throw with less than a second left.
Spurs 111, Clippers 98

At San Antonio, Tony Parker scored 18 points as San Antonio celebrated having its big three together for the first time in six weeks by drubbing the weary Los Angeles Clippers.

Manu Ginobili had 14 points and Tim Duncan had 13 before San Antonio's championship nucleus kicked back for most of the fourth quarter. Ginobili returned from a lengthy ankle injury on Wednesday, but Duncan had sat out to rest his knees.

Mike Taylor, starting in place of an ill Baron Davis, scored 23 points for the Clippers.
Grizzlies 113, Kings 95

At Sacramento, California, Marc Gasol scored 27 points as Memphis won in Sacramento for the first time in 11 years.

Rudy Gay had 23 points and nine rebounds and Mike Conley had 20 points and six rebounds for the Grizzlies, who snapped a 20-game losing streak in Sacramento. The franchise's only victory at Arco Arena came in the final game of the 1997-98 season, when the Grizzlies were in Vancouver and current Kings assistant coach Shareef Abdur-Rahim was in his second NBA season.

Kevin Martin scored 31 points for the Kings, who have dropped seven of eight.

Copyright AP - Associated Press