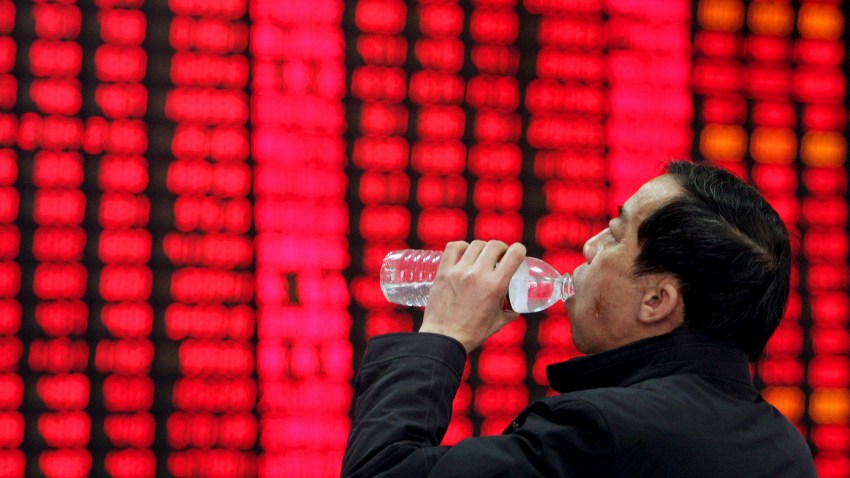 HONG KONG – World stock markets posted more solid gains Monday, with Hong Kong's index up more than 3 percent, as a global rally entered its fifth straight week amid hopes the worst of the economic crisis is over.

The advance came after Wall Street ended higher Friday to log its fourth consecutive week of gains. Most sectors climbed across Asia, with select Japanese exporters like Panasonic and Mazda especially strong after the dollar headed above 101 yen for the first time in months. European banking giant HSBC jumped after raising billions in capital.

Investors, determined to see the bright side of even the most dismal news of late, appeared more relieved than spooked by the most recent economic data.

Friday's U.S. unemployment report showed employers slashed a net total of 663,000 jobs last month while the employment rate jumped to 8.5 percent — the highest in 25 years. The figures were only slightly worse than expected.

Adding to investor optimism were comments from U.S. Federal Reserve Chairman Ben Bernanke that the central bank's strategy to ease America's financial crisis through billions of dollars in aid and other measures was starting to pay off. And in Japan, the government ordered more than 10 trillion yen ($99 billion) in fresh spending to rescue the world's second-biggest economy from its deepest recession since World War II.

Still, analysts warned the market was being driven higher with the help of big institutional investors who were forced to return to stocks after sitting out the start of the year. Anxiety about missing out on the rally has also spurred "panicky buying" by some investors.

Any weakness in U.S. company earnings, to be released in the coming weeks, or unexpected bleak economic data could quickly deflate confidence, analysts and traders say.

"There's no doubt that there's been some improvement in the global outlook, but not enough to justify what's going on in the markets," said Tim Rocks, Asia strategist at Macquarie Securities in Hong Kong

"Many people have been buying out of fear rather than conviction, and eventually the true degree of the difficulties the world is facing will reassert itself and markets will go back down," he said.

During early trade in Europe, benchmarks in England, Germany and France rose about 1.5 percent each.

Wall Street's rally showed few signs of easing as U.S. futures gained. Dow futures were up 55 points, or 0.7 percent, at 8,038 and S&P500 futures gained 3.7, or 0.4 percent, to 844.30.

Europe's advance followed Asia, where markets closed higher, though gains dwindled somewhat in the afternoon. Japan's Nikkei 225 stock average added 108.09 points, or 1.2 percent, to 8,857.93, while Hong Kong Hang Seng traded higher by 452.35, or 3.1 percent, at 14,998.04 to lead the region. South Korea's Kospi advanced 1.1 percent to 1,297.85.

Elsewhere, India's Sensex climbed 1.9 percent, Australia's key index gained 0.6 percent and Singapore's stock measure rose 1.3 percent. Markets in mainland China, Thailand and the Philippines were closed for holidays.

Among Asia's best performers was Mazda, which went into overdrive with the Japanese carmaker surging over 10 percent, while electronics maker Panasonic added 2.3. percent.

In Hong Kong, HSBC jumped 5.3 percent after stockholders purchased nearly 97 percent of new shares offered under a rights issue, raising nearly $18 billion for the London-based bank.

In Japan and elsewhere, North Korea's defiant launch of a rocket on Sunday appeared to have little impact on the markets.

In New York Friday, the Dow climbed 39.51, or 0.5 percent, to 8,017.59 — the index's highest close since Feb. 9. It's now 22.5 percent above its March trough and in the middle of its biggest four-week rally since 1933.

Broader measures also gained, with the Standard & Poor's 500 index up 8.12, or 1 percent, to 842.50.

Oil prices rose above $53 a barrel Monday in Asia as investors looked to U.S. corporate earnings reports this week for signs of economic recovery that could sustain crude's two-month rally. Benchmark crude for May delivery rose 64 cents to $53.15 a barrel. The contract fell 13 cents on Friday to settle at $52.51.

In currencies, the dollar strengthened to 101.37 yen from 100.29 yen. The euro traded up at $1.3549 from $1.3483.
Copyright AP - Associated Press