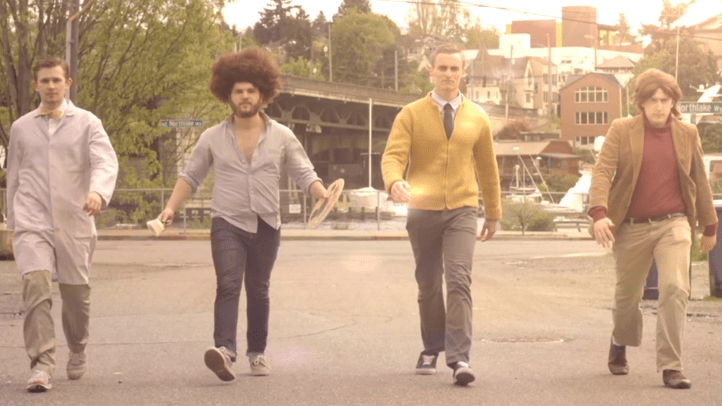 With the Public Broadcasting Service (PBS) facing possible budget cuts, YouTube parody creators GrittyReboots have turned iconic PBS hosts into a group of super heroes set to save the world from bad television once and for all.
In the three-minute "trailer," the fantastic foursome of Mr. Fred Rogers (David Zimmerman), Bill Nye "The Science Guy," (David Hudson) Carl Sagan (Steven Hudson) and Bob Ross (Jordan Brokaw) reunite with the world in a near stupor, thanks to poor news programs and reality television.
"Their minds are softening," says an evil television executive at the start of the video. "Lets keep it that way."
U.S. & World
The day's top national and international news.
With the battle lines drawn, the good guys quickly hatch a plan to save television for children around the world. The most powerful of the super hero group appears to be Sagan, who leaves a Mars space station engulfed in flames, a-la the Human Torch and flies to Earth to assemble a team. Nye is the brainiac, while Rogers seems to have Jean Grey-like powers of persuasion. Ross, with swipes of black paint under his eyes and a subdued, yet fiery demeanor, is the brawn.
Once reunited, the group heads to a reality television station where they attempt to barge into an executive's office. They quickly find trouble.
"Big man in a turtleneck. Take that away and what are you," the executive's assistant says to Sagan.
Even in the face of a determined adversary, Sagan doesn't forget to educate.
"I am what hydrogen becomes given 15 billions years of cosmic evolution," he says.
With the evil reality TV execs taken down, the group, with the help of children, create their own PBS ship and save the world.
"Some people just want to see the world learn," the assistant says, a clear homage to "Batman: The Dark Knight."
Watch the video below: