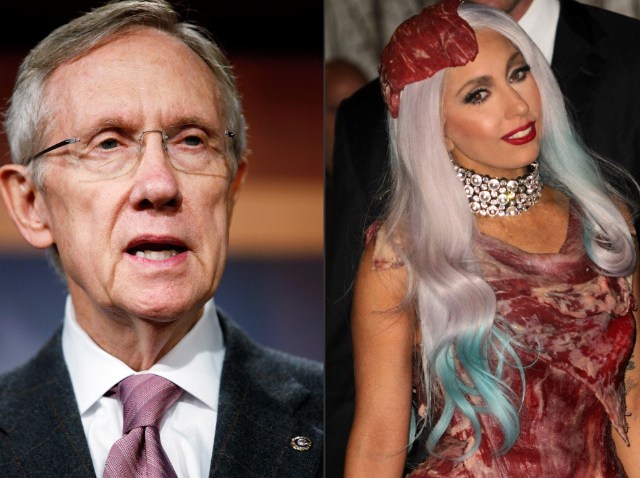 Turns out Lady Gaga is a fan of Sen. Harry Reid.
The "Alejandro" singer praised the majority leader of the Senate Tuesday after swapping tweets with him over the military's "don't ask, don't tell" policy banning openly gay service members.
"Gay Veterans were my VMA dates. Repeal Don't Ask Don't Tell. CALL HARRY REID to Schedule Senate Vote," Gaga tweeted to her more than six million followers on the microblogging service to kick off the exchange.
U.S. & World
The day's top national and international news.
The outspoken pop star, who surpassed Britney Spears last month as the most popular Twitter user, also linked to a photo of herself with the gay veterans outside MTV's awards show.
But "mother monster's" call to arms appears to have been unnecessary.
In Reid's response, the Nevada Democrat shared a link to his blog that showed he was already planning a vote on formally ending the Clinton-era policy.
"@ladygaga There is a vote on #DADT next week. Anyone qualified to serve this country should be allowed to do so," Reid wrote.
The back and forth culminated with Gaga retweeting Reid's post and thanking the senator, who is locked in a tough re-election campaign.
"God Bless and Thank you @HarryReid, from all of us, like u, who believe in equality and the dream of this country. We were #BORNTHISWAY," Gaga wrote.
"It's the right thing to do. Come back to Vegas soon!" Reid shot back.