The woman's voice was frantic and breathless, and she was choking back tears. "Help me. I'm Amanda Berry," she told a 911 dispatcher. "I've been kidnapped and I've been missing for 10 years and I'm, I'm here, I'm free now."
Those words led police to a house near downtown Cleveland where Berry and two other women who vanished about a decade ago were found Monday, elating family members and friends who had longed to see them again.
"The nightmare is over," Cleveland FBI Special Agent in Charge Stephen Anthony said at a news conference on Tuesday. "These three young ladies have provided us with the ultimate definition of survival and perseverance. The healing can now begin."
U.S. & World
The day's top national and international news.
For full U.S. News coverage, visit NBCNews.com.
Authorities arrested three brothers in connection with the case, ages 50 to 54. One of them, former school bus driver Ariel Castro, owned the home.
Police Chief Michael McGrath said he thinks Berry, Gina DeJesus and Michelle Knight were held in the house since they were in their teens or early 20s.

A 6-year-old also was found in the home, and Cleveland police Deputy Chief Ed Tomba said Tuesday that the girl is believed to be Berry's daughter. He declined to say who the father was or where the child was born.
The women appeared to be in good health and were taken to a hospital to be evaluated and reunited with relatives. A photo released by Berry's family showed her smiling with an arm around her sister.
All three were released from Metro Health Medical Center on Tuesday morning. Cleveland police Commander Keith Sulzer said the three women were taken to an undisclosed location in the Cleveland suburbs.
A sign outside the home of DeJesus' parents read "Welcome Home Gina."
Her aunt Sandra Ruiz told reporters that she was able to see all three. She asked that the family be given space.
"Those girls, those women are so strong," she said. "What we've done in 10 years is nothing compared to what those women have done in 10 years to survive."
She said the family "always knew" she was alive.
Authorities declined to say whether the women were restrained or if any of them had been sexually assaulted. Police said they were trying to be delicate in their questioning of the women, given the trauma they endured.
Neighbor Juan Perez told NBC's "Today" show that he rarely saw Castro or anyone else in the 22 years that he lived across the street from the house.
"I thought the home was vacant. I thought he probably had another property and he would just come and check and see if everything is OK." Perez said. "I didn't even know anybody lived there."
The women's escape and rescue began with a frenzied cry for help.

A neighbor, Charles Ramsey, told NBC station WKYC-TV he heard screaming from the house across the street, which prompted him to investigate and subsequently discover Berry with the two women.
"This girl is kicking the door and screaming," Ramsey said. "So I go over there and I say, 'Can I help? What's going on?' And she says, 'I've been kidnapped, and I've been in this house a long time. I want to leave right now.'"
He described the neighbor, though, as "very nice, charismatic" during their few interactions. The man had helped him fix a tire once, Perez said.
Another neighbor, Anna Tejeda, was sitting on her porch with friends when they heard someone across the street kicking a door and yelling.
Tejeda, 50, said one of her friends went over and told Berry how to kick the screen out of the bottom of the door, which allowed her to get out.
Speaking Spanish, which was translated by one of her friends, Tejeda said Berry was nervous and crying. She was dressed in pajamas and old sandals.
At first Tejeda said she didn't want to believe who the young woman was. "You're not Amanda Berry," she insisted. "Amanda Berry is dead."
But when Berry told her she'd been kidnapped and held captive, Tejeda said she gave her the telephone to call police, who arrived within minutes and then took the other women from the house.
On a recorded 911 call Monday, Berry declared: "I'm Amanda Berry. I've been on the news for the last 10 years."
She said she had been taken by someone and begged for police officers to come to the home on Cleveland's west side before the man returned.
"I've been kidnapped, and I've been missing for 10 years," she told the dispatcher. "And I'm here. I'm free now."
Police said Knight disappeared in 2002 at age 20 and is 32 now. Berry disappeared at age 16 on April 21, 2003, when she called her sister to say she was getting a ride home from her job at a Burger King. About a year later, DeJesus vanished at age 14 on her way home from school.
Berry is now 27, according to the National Center for Missing & Exploited Children. Authorities didn't provide a current age for DeJesus. They were found just a few miles from where they had vanished.
Police identified the three suspects as Ariel Castro, 52; Pedro Castro, 54; and Onil Castro, 50 (shown below from left to right).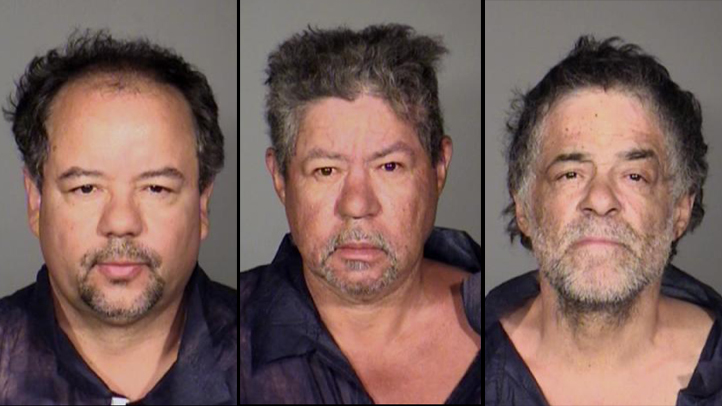 Attempts to reach Ariel Castro in jail were unsuccessful Monday. There was no public phone listing for the home, which was being searched by dozens of police officers and sheriff's deputies.
Officials said Tuesday they had no records of anyone calling about criminal activity at the house where three kidnapped women were kept for years before being found. They also had no records of code violations or fire department calls.
Police did go to the house twice in the past 15 years, officials said.
In 2000, before the women vanished, Ariel Castro reported a fight in the street, but no arrests were made, Public Safety Director Martin Flask said. In 2004, officers went to the home after child welfare officials alerted them that Ariel Castro, a school bus driver, apparently left a child unattended on a bus, Flask said. No one answered the door at Castro's house, and police later determined there was no criminal intent, he said.
The women's loved ones said they hadn't given up hope of seeing them again.
A childhood friend of DeJesus, Kayla Rogers, said she couldn't wait to hug her.
"I've been praying, never forgot about her, ever," Rogers told The Plain Dealer newspaper.
Berry's cousin Tasheena Mitchell told the newspaper she couldn't wait to have Berry in her arms.
"I'm going to hold her, and I'm going to squeeze her and I probably won't let her go," she said.
Berry's mother, Louwana Miller, who had been hospitalized for months with pancreatitis and other ailments, died in March 2006. She had spent the previous three years looking for her daughter, whose disappearance took a toll as her health steadily deteriorated, family and friends said.
Visit NBCNews.com for breaking news, world news, and news about the economy
Copyright AP - Associated Press