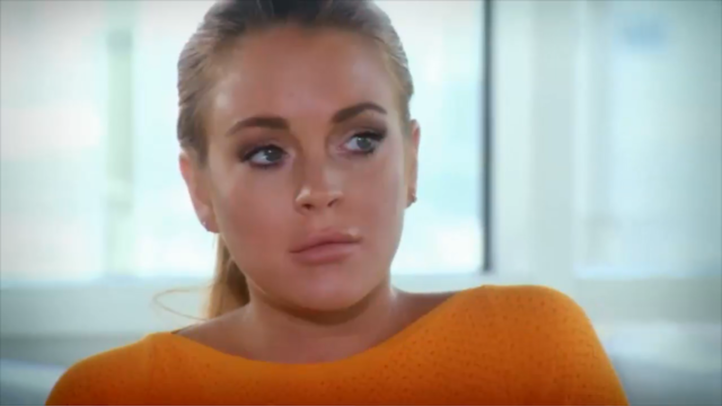 Fans have been eagerly awaiting the highly anticipated interview between Lindsay Lohan and Oprah Winfrey, and after a couple teases throughout the past couple of weeks, viewers were finally able to see the star's first post-rehab sit-down.
On Sunday's episode of Oprah's Next Chapter, LiLo (who was teary-eyed for most of the interview) seemed genuine, answering all of the hard-hitting questions about her addiction and family troubles honestly, and even offering some eyebrow-raising explanations for her actions.
When discussing her sentence to jail time a few years back, Lohan admitted she felt that subconsciously she was acting out so that she would be put behind bars, "I think it was just to find some peace and just have no choice but to just sit and be."
U.S. & World
The day's top national and international news.
VIDEO: Lindsay admits to Oprah, "I'm my own worst enemy"
However, it was clear that even time in the slammer didn't make Lindsay change her troublesome ways, and she said that she didn't realize at the time that she should just "shut up and listen." But this time around was different, and she finally surrendered to the process.
"In this case, I wasn't fighting at all. I just let go and was able to just be like, 'OK you probably do know what's best, because my idea of doing what's best for me has not worked in the past," Lohan told Oprah.
"I came into it just really willing, really craving more spirituality. Really open and ready to get really honest."
LOOK: LiLo posts "back at work" selfie
When asked if she was an addict, Lindsay simply said "yeah," and added that alcohol was her drug of choice.
"Alcohol. That, in the past, was a gateway to other things for me," Lohan said, adding that she did cocaine 10-15 times in her life even though she hated it, but "it allowed me to drink more, I think that's why I did it."
But how did the addiction begin?
Lindsay said, "A lot of stuff went on with my family when I was young and I grew up in a very chaotic home and then there were moments of everything being wonderful and perfect and then things being so uncontrollable and chaotic that--it's something people go through and unfortunately i waited too long to face it."
And even LiLo had to admit that she was addicted to chaos, too. "It was a comfortable chaos for me. So what was chaotic for some people from the outside looking in was normal."
However, the actress is ready to turn a new leaf and is well aware that she has lost a lot of people's trust in the process, but is willing to do what is necessary to get that back.
Lohan tells Winfrey that she's ready "get the thing that's made me the happiest my whole life back, which is just work really hard and stay focused and prove myself in the way that I did before in the past that I lost. I have to regain the trust of people in my career that have their doubts and I fully respect that on their behalf."
PHOTOS: Check out pics from Lindsay's last big guest-starring role on Anger Management
Lindsay, who "hates" being the example of a child-star-gone-wrong, says that she's just "tired. I've lived so many lifetimes at this point and it's not interesting to me anymore."
"It's a process of growing up and recognizing and being just so tired and exhausted by the chaos...I have had no right in my past to complain about being followed by cameras and people making up stories, but there's something to be said about me moving forward that if i'm going to put myself in a public situation--that's open season for people to say what they're gonna say. I can't control that but I can control not putting myself there."
The celeb had a trip to Europe planned, which Oprah brought up and shared her concern since Lohan was fresh out of rehab, and the host asked Lindsay to reconsider her trip.
Although Lohan insisted "I'm different. I'm in a different headspace. I don't want those things that I wanted before," she canceled her getaway two days after taping the interview.
Looks like LiLo is off to a great start.
Copyright E! Online