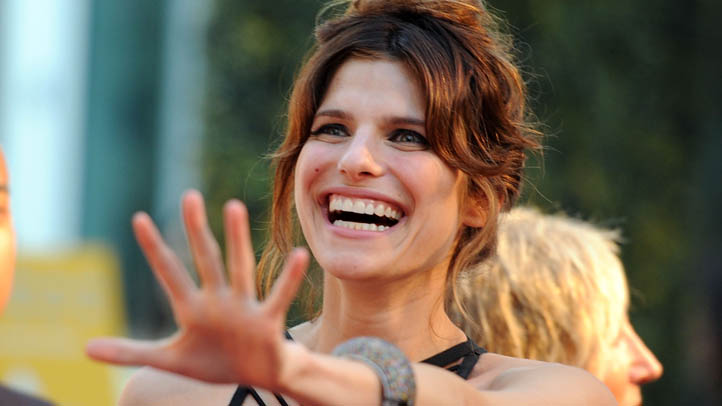 Lake Bell. Repeated use of the word "orgy." By all means, keep reading.
Bell – the current month's Maxim cover girl and "Children's Hospital" regular –started her Hollywood career with the requisite amount of "sexy" and over the years she's kept adding more intriguing layers of "funny" to the adjectives on her resume, and her role in the new R-rated ensemble comedy "A Good Old Fashioned Orgy" suggests a perfect storm of her two specialties. Bell lays bare the secrets of starring in a sweet-natured sex comedy for PopcornBiz.
On what prompted her to finally crack open that initially off-putting-ly titled screenplay:
U.S. & World
The day's top national and international news.
"When I saw the words 'A Good Old Fashioned Orgy' printed on the cover the script I was like, 'I'm not reading this because it's never getting made and it's never going to keep that title. And I don't feel like doing porn. This just seems leechy and B rate.' And then it turns out that it's awesome, they totally kept the title and I did read it in the end. My agent at the time was, like, 'No, no, no – You've got to meet with Pete Huyck and Alex Gregory. Once you meet you'll understand the tenor of the movie.' When I did, sure enough they were assembling a troupe of fun people to just go down to a vacation spot and basically shoot an orgy of fun. That's exactly what it was – it was not sordid. We entrusted ourselves to those two dudes, and they totally delivered something earnest and sweet. And yes, we went there two weeks early to bond and become close enough so that it'd be super-awkward once we had to disrobe."
On how this film set was surprisingly not the typical hotbed of cast and crew hookups that most shoots are:
"This was the antithesis of that. I mean, I think that everyone couldn't have been further away from each other because we knew that it was pending, and also we forged this platonic amalgamation of sweet, good people. We were all sort of like 14 years old, being playful and silly and feeling comfortable enough to say stupid things and do stupid things. So that's what felt platonic about it, and by the time that we did get there, the neuroses that were genuinely attached to really having to go through with it, by the way, we talked about all the time. Like with any kind of performance anxiety, if you overthink it and overtalk about it, then you get more stage fright when you get there. So there were genuine nerves. But there was a sense of excitement as well in the same way that going on a scary roller coaster does, you get that sort of nervous excitement. I think it was that because we knew that we'd be sort of a little cooler once we got through it. It's like getting through something really terrifying. We knew the end result would be worth it."
On getting an eyeful of your co-stars' naughty bits while being discreetly positioned so they don't show up on camera:
"I mean, there's no fascination and horror to be had. It's more that you're just concerned about your own bits. You're not really thinking about anyone else's. It's like when you first meet someone and you're so concerned about saying your name right that you forget their name – It's that kind of a thing. So I'm not really looking at everyone else's bits because I'm just concerned about where everything else is on me. I just want to be, like, 'Can I get a 20 on pretty much all my bits?'"
On stripping down, mostly, for her art:
"I think as a lady, as an actress, certainly the things that I've done I'm always in the skivvies or doing something. I don't really mind. I'm like, 'F**k it. Do it while you're young.' It's so much easier if it's funny. I think if you're being serious then it's genuinely weird. If you're doing it for funny then it's sort of awkward and you can make fun of it, like in real life. But this was really hard, I think, because we had to do sex stuff that you normally do in front of a crew and just the other person that you're in the scene with - you had to do that in front of, like, your buddies. So they're seeing you do your sex face. They're seeing you do your ACTING sex face. It's not even the real thing. It's so layered with awkwardity, if that's a word."
"A Good Old Fashioned Orgy" opens in limited release this Friday