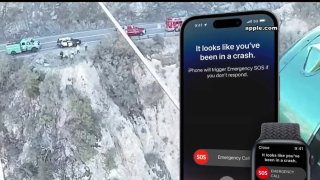 Saved by the iPhone?
Across the country, several iPhone users have had their devices come to their rescue. And it's all because of an Apple feature called Crash Detection that launched in September.
The feature allows users to connect with emergency services, family and close friends after a severe crash — including front-impact, side-impact, rear-end collisions and rollovers — even when cellular and Wi-Fi coverage isn't available.
How has Crash Detection saved people?
We're making it easier for you to find stories that matter with our new newsletter — The 4Front. Sign up here and get news that is important for you to your inbox.
After a California couple lost control of their car and crashed 300 feet into a canyon in December, they searched for their phones only to find out there was no cell service.
Cloe Fields and Christian Zelada hung upside down while Fields cried and hyperventilated.
Luckily, Fields' iPhone 14 enabled Crash Detection and Emergency SOS via satellite to reach emergency services, despite not being in an area with Wi-Fi and cell service.
A search and rescue team received the couple's coordinates and brought the couple to safety.
Since no one witnessed the crash, officials said they might not have been alerted without Apple's technology.
Crash Detection also saved a driver whose car submerged in a canal in Florida on Wednesday.
The driver's phone sent an alert to 911 dispatchers with estimated coordinates. Officials said they found the car upside down in dark and murky canal waters.
The driver was taken to a local hospital and expected to make a full recovery.
In a statement, the sheriff's office called Crash Detection "amazing technology."
How does Crash Detection work?
When your device senses a severe collision, it will sound an alarm, vibrate and display an alert, according to Apple's website.
You have the option to call emergency services or dismiss the alert.
If you don't respond after 20 seconds, the device will automatically call emergency services with a repeating message that the device detected a severe car crash and the user is unresponsive. It also shares your approximate latitude and longitude coordinates with a search radius.
Emergency SOS via satellite system can be used to communicate to emergency services if you're in an area outside of cellular and Wi-Fi coverage.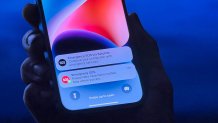 Your added emergency contacts will also receive a message with your location to notify them that you've been in a severe collision.
Your device will display your Medical ID if set up, so responders can access your medical information.
Crash Detection will not interfere with a vehicle's way of detecting a collision and calling emergency services.
What Apple devices have Crash Detection?
Crash Detection is only available for some iPhone and Apple Watch models, which are listed below:
iPhone 14 and iPhone 14 Pro models with the latest version of iOS
Apple Watch Series 8, Apple Watch SE and Apple Watch Ultra with the latest version of watchOS
Does Crash Detection detect all car crashes?
No, Crash Detection cannot sense all crashes, according to Apple's website.
And the technology isn't foolproof — it has mistaken roller coaster rides for severe accidents, causing panic among some emergency contacts.
One way to avoid false alerts is to turn off Crash Detection.
You can turn it off on your iPhone by opening the "Settings" app, tapping "Emergency SOS" and turning off "Call After Severe Crash." Open the "My Watch" tab and follow the same steps for an Apple Watch.