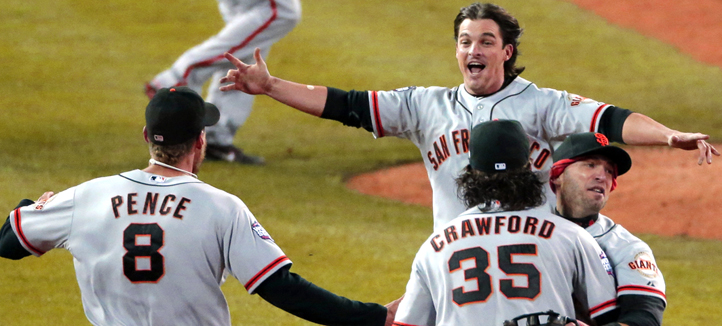 It was a sweep worth savoring for some and mourning for others.
A slew of Hollywood celebrities weighed in on the San Francisco Giants' thrilling 4-3 10th-inning victory last night over the Detroit Tigers in Game 4--a win that handed the former their second World Series trophy in three years.
Baseball playoffs bust up "The X Factor"
U.S. & World
The day's top national and international news.
Here's a quick roundup of reactions:
George Lopez: "Congrats to the Giants @BrianWilson38 can't wait til you get back out there brother'"
Colin Hanks: "WELL DONE @SFGIANTS!!!! WELL DONE INDEED!!! WORLD CHAMPS!!!!!!!! AMAZING!!!!!"
Steve Martin: "Evidently, some giants won a contest. So unfair."
Kevin Pollak: "Yay, f--king YAY!! Congrats (!!!!!!!) to the entire @SFGiants roaster, their families and their FANS."
Jeff Daniels: "Well, not only can you leave your heart in San Francisco, you can get swept by it, too. Congrats to @kevinpollak and all SF Fans #Giants"
Lil Wayne sings "Take Me Out to the Ballgame" at Game 6 of NLCS
Rob Lowe: "Alright new Dodgers. Now you've seen what the real deal looks like. Can you be great again? Hope so."
Marisa Miller: "Congrats to the @SFGiants on winning the World Series!!! So proud!"
Keith Olbermann: "Sure I picked the Tigers but what the hell: great team, friends there, and the manager's head is bigger than mine #Congrats #Giants"
Tamera Mowry-Housley: "THIS IS OUR TEAM!!! CONGRATS GIANTS!!!!!!!!"
David Boreanaz: "Congratulations to the SF Giants."
Copyright E! Online