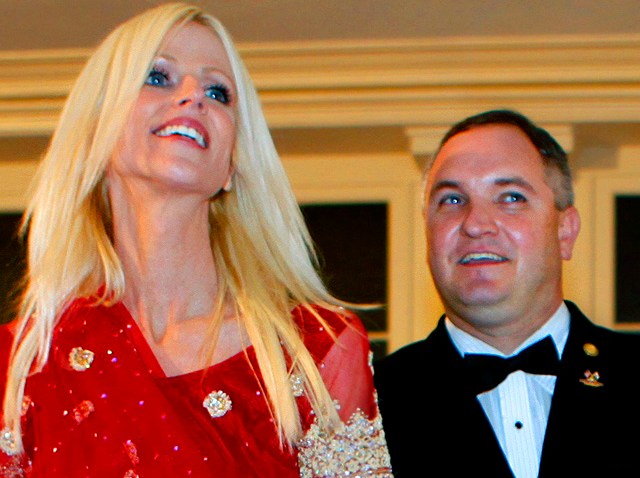 The red sari worn by the female half of the White House party crashers last year during their couple's shameless leap into infamy reportedly will be put up for auction – once the scandal is tackled in her new show, "The Real Housewives of D.C."

We'll take this gossip nugget as a sign that Reality TV memorabilia somehow might be headed toward lucrative icon status, like, say, Captain Kirk's phaser. And we're not particularly stunned by the news this week that plans are in the offing for a three-day Reality TV convention next year in Los Angeles.
As highly illogical as it sounds, Reality TV fans could become the new Trekkers.

This speaks as much to the changing, downward definition of fame as it does to the schizophrenic state of television. For every "Modern Family," there are five editions of the decidedly less realistic "Real Housewives." For every "Glee," there are countless reality talent shows – including one tied to "Glee."

Instead of repeats, summer now means more "Jersey Shore." So it shouldn't be a shock that Snooki's recent arrest proved big news – and that her mugshot quickly became as ubiquitous as the photo of a certain fame seeker in a red sari shaking hands with the president of the United States.

The organizers of what we'll nickname Reality-Con (they call it the Reality Rocks Expo) clearly are trying to tap into the success of the Comic-Con, the San Diego fanboy fest that's gone, over the last four decades, from a humble geek gathering to a must-stop for anyone promoting a movie even vaguely related to sci-fi.

Fans clearly crave a sense of connection with entertainers and pop culture creators. That no doubt explains why Comic-Con draws customers by the tens of thousands, why folks troll Hollywood Boulevard looking at the stars at their feet instead of the ones in the sky and why music lovers make pilgrimages to Cleveland to walk through the Rock and Roll Hall of Fame.

But we've also seen star worship taken to ghoulish, fetishistic proportions – you're guaranteed to pay a fortune for anything ever touched by Elvis Presley, Michael Jackson or Marilyn Monroe (not even necessarily touched: Monroe X-rays recently commanded $45,000).

As crazy as the pop culture memorabilia industry can get, at least fans generally are spending energy and money on endeavors related to talented people – ones who gave us favorite movies, TV shows and songs. What did "Jersey Shore" ever give us, except for a few cheap laughs and many more opportunities to cringe?

The honorary co-chairs of April's Reality Rocks Expo include "American Idol" judge Randy Jackson, who might not have a job next season. The Expo is billed as a celebration of all non-scripted TV fare – but perhaps it's unfair to lump in the some of the stronger talent-competition shows, such as "Idol" with the likes of the Kardashians, who are famous for being inexplicably famous.

Talent show figures could even provide some genuine entertainment as the halls of the Los Angeles Convention Center likely teem with Cosplay versions of Snooki (but hopefully not of Richard Hatch, the naked guy from "Survivor").

Will "Top Chef" contestants and survivors of "Hell's Kitchen" compete for the catering contract? Will the "Cake Boss" or the "Ace of Cakes" provide the desserts? And will the casts of "Dance Your Ass Off" and "Dancing With the Stars" have a ballroom faceoff?

The Reality Rocks Expo could become a reality show unto itself...

In other Reality TV news, "Survivor" host Jeff Probst complained this week to The Hollywood Reporter that the outstanding reality show host award won't be presented during the national Emmys broadcast, ostensibly because of time issues. He has a point – the folks who have filled too much of the airwaves with Reality TV shows shouldn't try to bury their sometimes embarrassing treasure chests on some desert island.

If the red sari fits, wear it.
Hester is founding director of the award-winning, multi-media NYCity News Service at the City University of New York Graduate School of Journalism. He is the former City Editor of the New York Daily News, where he started as a reporter in 1992. Follow him on Twitter.
Copyright FREEL - NBC Local Media