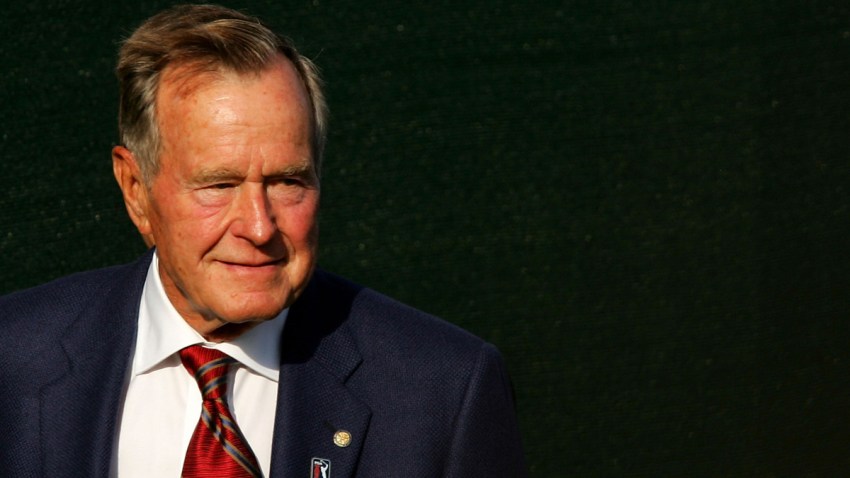 Former President George H.W. Bush is spending a fourth night in a Houston hospital where he's being treated after experiencing shortness of breath earlier this week.
Family spokesman Jim McGrath said Friday evening the 90-year-old Bush "remains in high spirits and continues to make progress."
No other details were disclosed in the brief statement.
U.S. & World
The day's top national and international news.
Bush was taken to Houston's Methodist Hospital on Tuesday night in what was reported as a precaution. He spent nearly two months, including Christmas, at the same hospital two years ago for treatment of a bronchitis-related cough and other issues.
President Barack Obama, who is vacationing in Hawaii, has been notified about Bush's hospital admission.
"President Obama and the first lady send their good wishes to the former president and the entire Bush family during this holiday season," said White House spokesman Eric Schultz.
Bush made two public appearances last month. He attended an event at Texas A&M University with his son, former President George W. Bush, and served as the coin-toss captain for the Houston Texans during a Nov. 23 game that honored the U.S. Armed Forces.
The elder Bush was a naval aviator in World War II -- at one point the youngest in the Navy -- and was shot down over the Pacific.
Bush served two terms as Ronald Reagan's vice president before being elected the nation's 41st president in 1988. After one term, highlighted by the success of the 1991 Gulf War in Kuwait, he lost to Democrat Bill Clinton amid voters' concerns about the economy.
The elder Bush has skydived on at least three of his birthdays since leaving the White House. In June, he celebrated his 90th birthday by making a tandem parachute jump near his summer home in Kennebunkport, Maine. During the winter, Bush and his wife, Barbara, live in Houston.
Bush, also a former U.S. ambassador to China and CIA director, suffers from a form of Parkinson's disease that has forced him in recent years to use a motorized scooter or wheelchair for mobility.
Copyright AP - Associated Press