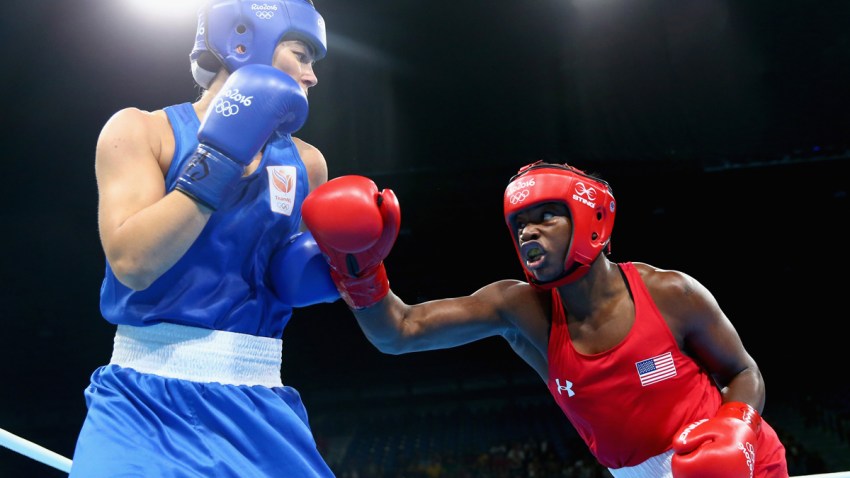 Claressa Shields has become the first American boxer of either gender to win two Olympic boxing gold medals.
Shields on Sunday beat Netherlands fighter Nouchka Fontijn by unanimous decision to win her second middleweight gold. She was the star of the London Games and again was the class of her division.
"I wanted to let everyone to know that I'm not just a great female boxer, but I'm one of the great boxers that ever lived," Shields proclaimed.
U.S. & World
The day's top national and international news.
The 21-year-old Flint, Michigan native, raised her arms in the corner toward friends and family in the stands after the third round. The fourth round was simply a coronation for a fighter who put women's boxing on the map. Women's boxing made its debut at the London Games.
Shields rocked Fontijn with a big right to the face in the second round that jolted the crowd. She gestured toward Fontijn to come fight in the fourth round. By then, it was way too late for Fontijn.
Shields said after the fight, that her strategy going in was to "be smart, use my jab, and then the right hand when I could and not get touched by those long arms she had. And I did it."
She performed a cartwheel in the ring, then took a victory lap with the American flag on her back.
Shieds hasn't lost a fight since the London Games, winning two world championships and a Pan-Am Games title.
Her final bout in Rio de Janeiro was the culmination of a four-year stretch in which she hasn't lost a fight and has rarely even been tested — certainly not yet at the Rio Olympics, where top female fighters only must win three bouts to claim gold.
"A lot of girls are here just to beat me, but I'm here to win a gold medal," Shields said. "Beating me is winning a gold medal to them, so they go out there and they fight me a lot harder than they did any other opponent."
Shields is increasingly competing largely against her own preparation and motivation — something she does well.
She gave herself a C-minus grade for her opening bout, but she figured out why she didn't feel right against that Russian opponent. Because she can no longer stomach the food in the athletes village cafeteria after a month in Rio, she had consumed only a peanut-butter-and-jelly sandwich and some chocolate milk on the day before her first fight.
She stopped eating like the college student that she recently was, eating proper meals and subsequently dominating Kazakhstan's Dariga Shakimova to reach the final.
Koroma and head women's coach Billy Walsh work on game plans with Shields, but her superior skills and athleticism often make it relatively easy work. With her confidence fairly bursting, Shields doesn't appear to require much help to dominate.
"You don't have to worry about if I'm going to get out there and not let my hands go," Shields said. "That's never going to happen. I don't even have to warm up for that."
Shields beat Fontijn at the world championships in May. Fontijn has a better chance than just about anybody in the world to end Shields' dominance, but the talent gap between Shields and the middleweight field has been larger than in any division in Rio.
Shields' one-sided success and ensuing fame have been an enormous boon for USA Boxing, which is coming home from Brazil with one silver and one bronze from its men after failing to win anything in London.
The rising popularity of women's boxing in general has allowed USA Boxing to get the funds to hire veteran Irish amateur coach Walsh, who oversees the entire team from his official position as the women's head coach.
Walsh only got the job late last year, and his true focus is on the 2020 Olympics as he attempts to build a cohesive program. After some initial conflicts with his star, he has become a fervent backer of Shields, lauding her example to his other seven fighters.
"None of these guys understood what I was trying to build with Team USA when I got here," Walsh said. "Claressa is the only one that caught on. It was massive. She said, 'You're trying to build a team.' Exactly. We're trying to build a bond, and she sees it better than anyone."
Copyright AP - Associated Press