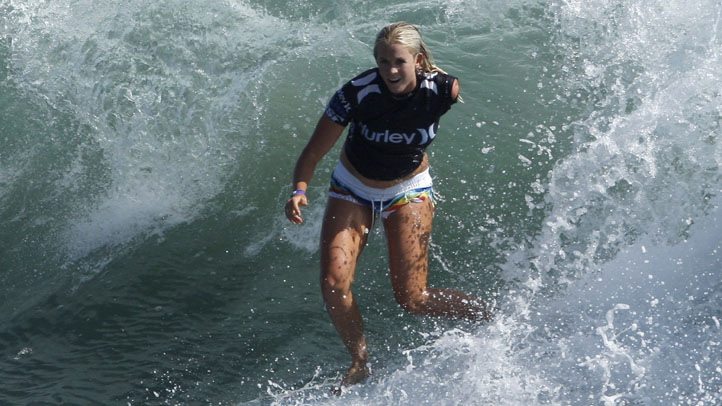 Looks like this "Soul Surfer" has found her soul mate!
Bethany Hamilton, the professional surfer who lost an arm in shark attack when she was just 13 years old, announced her engagement to her fiance on her website Wednesday.
The 23-year-old athlete shares how she and Adam (whom she does not identify by last name in the post, but is elsewhere ID'd as Adam Dirks) first met on "somewhat of a blind date" and quickly became a couple before Adam proposed on April 9.
U.S. & World
The day's top national and international news.
"I know Adam and I are right for each other and that God has us together for Him," Hamilton posted on her blog page. "Neither of us is perfect, but in my eyes Adam is just right and I'm thankful to have someone so perfectly perfect to share life with as one."
And Bethany's hubby-to-be clearly shares the same sentiments, "Every time she says 'I love you' I can't help but smile and skip a few heartbeats," he gushes in a guest-blog post. "To feel the love of someone who genuinely loves me for who I am and becoming, is indescribable."
"I'm so thankful for you and look forward to living life together," the pro surfer adds. "Adam, I love you and I'm here to stay!"
PHOTOS: Celeb Weddings We Can't Wait For
Hamilton famously returned to surfing after her tragic injury in 2003. She went pro in 2007, and her story, "Soul Surfer," was later turned into a major motion picture starring AnnaSophia Robb.
Congrats to the happy couple!
Copyright E! Online