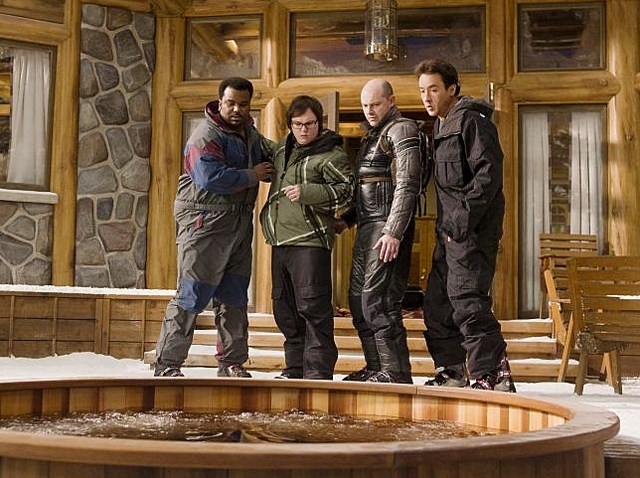 In the recent underrated comedy, "Hot Tube Time Machine," some disillusioned forty-something pals get sucked into a vortex that takes them back to relive the last of their glory days in 1986.

They could have stayed home and logged onto YouTube.

A new site, YouTube Time Machine, is tackling the Herculean task of arranging videos by year, allowing users to see offerings in various categories, including movies, TV, music, commercials, sports and current events.

So 1986, for example, yields some 78 videos, ranging from a trailer for "Maximum Overdrive" (Stephen King's hair-raising directing debut) to Bon Jovi's "Livin' on a Prayer" video (when the group was livin' with big hair) to a Sy Sperling Hair Club for Men commercial ("I'm not only the hair club president – I'm a client").

Go back to 1860, the earliest year on the site, and you'll find an 11-second snippet that's believed to be the first recorded sound. Fast-forward 150 years, and you can watch Steve Jobs introduce the latest iPhone.

We stumbled onto YouTube Time Machine via Social Times, which notes the new site was the brainchild of Justin Johnson, who reports the idea was hatched over pizza and beer at a Brooklyn bar.

We'll blame Johnson for sucking away too much of our not-so-valuable time with the addictive site.

We'll also credit him with recognizing YouTube as a pop cultural time capsule and giving us a clever new navigation tool. As Google, which owns YouTube, proved, the power of the Internet rests not only in the scope of content, but in filtering and organizing. Johnson's site also taps into the YouTube do-it-yourself ethos by asking users to add links to the time machine, whose repository hopefully will grow.

It's worth noting that the time machine's debut comes as YouTube this week launched a two-day experiment in live streaming, using content from four Web video companies.

Meanwhile, Google reportedly is working with Sony on a Web-friendly TV and with Hollywood on using YouTube as a pay-per-view movie service. Netflix is ramping up its streaming operation, Hulu is rolling out a "Hulu Plus" pay model and Jobs recently announced a new version of Apple TV that will offer shows for 99 cents an episode.

How and where we watch video content is changing and it's unclear which viewing forms will be around for the long term. It's all very exciting, but daunting enough sometimes to make you want to seek refuge in a hot tub – or perhaps in the nostalgia of YouTube clips from what at least seemed like simpler times.

Check out some YouTube Time Machine offerings below, and go here to trip through the years of pop culture.
U.S. & World
The day's top national and international news.
Hester is founding director of the award-winning, multi-media NYCity News Service at the City University of New York Graduate School of Journalism. He is the former City Editor of the New York Daily News, where he started as a reporter in 1992. Follow him on Twitter.
Copyright FREEL - NBC Local Media