Members of a Syrian refugee family that recently resettled in Prince George's County, Maryland, hoped to find peace in their new home. But they said they fear the immigration order President Donald Trump signed last week will threaten their ability to rebuild their lives.
The Hassin family arrived in Hyattsville on Nov. 10, the day after Trump declared victory. The family of five moved into a small apartment in a complex where nonprofit organizations have helped resettle many people. A sign that reads "We welcome refugees" hangs on the front gate.
Mr. Hassin, 48, is anxiously applying for dozens of jobs per week. Mrs. Hassin, 37, is learning English. And their three children -- a 17-year-old boy, 16-year-old girl and 12-year-old boy -- are trying to adjust to new schools.
As the refugees work to adapt, the executive order Trump signed Jan. 27 shook their confidence, they said in an interview.
"We were very scared. We fled Syria to come to a safe land, and now we feel scared again," Mrs. Hassin said via an interpreter.
Her husband asked that News4 withhold the family's first names for the safety of relatives still trying to flee Syria.
When Trump signed the executive order, Mr. Hassin's sister, her husband and their four children were in the midst of the lengthy process of seeking refugee status. The two families hoped they could reunite in the U.S. Last week, they were told that was no longer an option.
Local
Washington, D.C., Maryland and Virginia local news, events and information
Sitting in their new living room with their children nearby, Mr. and Mrs. Hassin said they fear what the new president will do.
"We're afraid that he will deport us," Mrs. Hassin said.
She and her husband said they also worry that Trump will spark violence against immigrants and Muslims. The same day they spoke, they heard that a neighbor who wears a hijab was accosted on board a bus.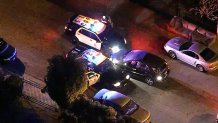 Trump's executive order suspends all refugee admissions for 120 days while officials review security procedures. Separately, Syrian refugees were barred from entering the country indefinitely until Trump determines that their admission is "consistent with the national interest."
Trump said the measures were designed to keep "radical Islamic terrorists" out of the country.
The family fled terror in their home city of Daraa in 2013. Men had broken into their home at least four times.
"We didn't know if they were rebels or if they were with the regime," Mr. Hassin said. "They break into houses, they abuse women, they ask men to strip down. I didn't want this to happen to my family."
Then, a bomb hit their house. They left two days later, carrying only clothing.
"That is all we could take," said Mr. Hassin, who worked at a poultry farm and at a factory that made cleaning products.
The family took a bus to the Jordanian border, paying five times the usual fare. There, they slept on the ground in a tent with hundreds of other people.
The next day, members of the Jordanian army took them to the Zaatari refugee camp, where nearly 80,000 people live.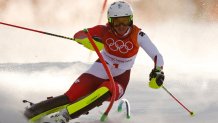 The Hassins stayed there about two weeks before they paid someone to take them to Amman, Jordan. They lived there until finally, last March, they learned they would receive visas to go to the U.S. They had never heard of Maryland.
Still, getting the news was a dream come true.
"We knew there weren't going to be a lot of opportunities for us. But for our kids, we're going to have a lot of opportunities," Mr. Hassin said as his three children fiddled with their smartphones.
Mr. Hassin said he wants his new neighbors to know that Syrians are hard-working and kind.
"They would do any job offered to them. They would do anything rather than ask people and beg for help," he said.
In 2016, the U.S. admitted nearly 97,000 refugees, according to U.S. State Department data. More than 1,900 of these people went to Maryland, more than 1,600 went to Virginia and just eight went to D.C., where few refugees are resettled because of the high cost of living.
Under Trump's plan, the maximum number of refugees allowed into the country in fiscal year 2017 likely will decline from 110,000 to 50,000. That number will remain the limit "until such time as I determine that additional admissions would be in the national interest," Trump's order said.
A Reuters/Ipsos poll conducted Jan. 30-31 found that 49 percent of Americans agreed with the order and 41 percent disagreed. Less than one-third of people polled said they believe the move makes them "more safe."
The International Rescue Committee, which helped resettle the Hassins, expected to welcome about 200 additional people this year through their office in Silver Spring, Maryland, alone. Some apartments already were stocked with furniture and food.
When Trump issued the executive order, plans years in the making were canceled.
[NATL] Trump Immigration Order Triggers Protests Across US